Meet our new GWAAC Operations Officer, Tim Ross-Smith
October 9, 2023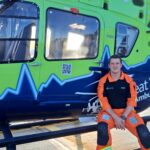 Meet our newest PHEM trainee, Dr Mark Winstanley
October 25, 2023
With thanks to generous donations from communities, clubs, family, friends, and fundraisers, the Sam Polledri Foundation has raised a staggering £66,700 in just over a year for public access defibrillators in and around Bristol and they're already saving lives.
The Sam Polledri Foundation, working in partnership with Great Western Air Ambulance Charity (GWAAC), was set up in memory of 24-year-old Sam who sadly passed away on 26 February 2022 while on a night out with friends.
Sam was a fit and healthy young man who loved his rugby. He suffered a cardiac arrest in one of Bristol's most popular tourist areas, Millennium Square, yet despite five defibrillators being nearby none were accessible to the public.
Our crew attended Sam that night and did everything they could, but Sam didn't survive.
To increase someone else's chance of surviving a cardiac arrest, the Sam Polledri Foundation's first defibrillator was installed at Millennium Square on 29 July 2022 near where Sam fell. They have just installed their thirteenth defibrillator!
Why public access defibrillators and training are so vital
When a cardiac arrest occurs those precious minutes before an ambulance arrives can make the most difference to a person's chance of survival. Bystander CPR and defibrillation can increase the chances of surviving from less than one in ten to more than seven in ten.                                                          
To avoid needless deaths, we want anyone who suffers a cardiac arrest to receive immediate CPR and then defibrillation within five minutes. For every one-minute delay, a person's chance of survival decreases by another ten percent, so defibrillators need to be close by, publicly available, and used!
Our Heartstarters volunteers teach children and adults vital skills in CPR and defibrillation so they have the confidence to deliver early lifesaving interventions and pass their knowledge on to others.
The Sam Polledri Foundation shares our vision of saving more lives with community defibrillators and training, and together, we're already making a difference in local communities.
A lifesaving legacy
The Sam Polledri Foundation has installed thirteen defibrillators so far with more in the pipeline.
Two of the defibrillators have already been used on people in cardiac arrest. One in central Bristol, which saved a life; and then two days after it was made rescue-ready, the defibrillator at the Clifton Observatory was also used.
"It's an absolutely incredible feeling to know Sam has given someone a chance and how important what we're doing in his name truly is."
Lisa Mazzotta, Sam's girlfriend
The Polledris, Sam's girlfriend Lisa, and family friends have worked tirelessly to raise funds for defibrillators. They have arranged fundraising events such as a dinner, a golf day by Guiseppe Licata, auctions, and even a bike ride by Lisa's dad Emilio and his friend Guilio from Lands' End to John 'o' Groats. Sam's mum Louise has also used her networks with local businesses to place defibs at central locations.
Their efforts have already resulted in a safer harbourside area in Bristol that is better prepared to help someone in cardiac arrest. Along with the defib at Millennium Square, there is also one situated at Brunel's SS Great Britain and outside Hargreaves Lansdown on Anchor Road.
Support from the rugby community
The family's rugby links have led to a huge wave of support from the Bristol rugby community. Sam's dad Pete played for many years with Bristol and as an England international, and Sam's brother Jake is an Italian international who played for Gloucester and now Zebre Parma. Sam also played rugby enjoying success at Clifton RFC, St Marys, Filton College, Cleeve RFC, and Dings Crusaders in Bristol.
Local rugby clubs Avonmouth Old Boys RFC, Clifton RFC, Richmond Heavies, and Cotham Park RFC have all raised money to install defibrillators. A defib has also been installed at the popular sporting fields at Bristol Downs through a connection with Try Tag Rugby.
Former England and Gloucester Rugby player, Ben Morgan, has also shown his support by fundraising as part of his testimonial year. This has included the Three Peaks Challenge and a rugby sevens competition. He has reached further into the rugby network and beyond with his fundraising work and television appearances, raising a brilliant £7,475 to date.
The growing awareness of the importance of CPR and defibrillation within the rugby and sporting community is providing more opportunities for GWAAC's Heartstarters volunteers to pass on lifesaving skills. In August 2023, Heartstarters volunteers and crew returned to the Bristol Bears' High Performance Centre to teach CPR to Bristol Bears players and staff.
Defib unveiled at GWAAC's Gloucester shop
On Thursday 28 September, the Sam Polledri Foundation's thirteenth defibrillator was launched at our very own Northgate Street shop in Gloucester city centre.
This is the Sam Polledri Foundation's second publicly accessible defib in Gloucester and the city's seventh overall.
Approximately 50 guests were invited to the event, including representatives from the Gloucester BID team, Gloucester City Council, the Polledri family, the Kingsholm Rotary and Gloucester Quays Rotary Clubs, Kier Group, and GWAAC supporters, volunteers, and staff.
Speeches were made inside GWAAC's Northgate shop by Bernard Dunkley the President of The Rotary at Kingsholm, Gloucester, the Sheriff of Gloucester, and Louise Polledri.
Bernard said he started the Rotary's defib campaign in Gloucester after reading an article about the Sam Polledri Foundation in a Gloucester magazine. The Rotary funded the defib at the shop and Bernard described its installation as a wonderful start to their campaign.
The Sheriff of Gloucester spoke about the importance and poignancy of schemes like these and he received a cheer from the crowd when he announced that the city's seven defibs had already saved nine lives.
But it was Louise's speech that moved people to tears. She explained what happened to Sam and why they set up the Foundation. She ended with:

"What we're all doing together here today, Sam would be so proud of. What we're doing can save others; it can give someone a chance to survive. It's too late for Sam, but we want to ensure it's not too late for someone else's child."
Louise Polledri, Mum of Sam Polledri.
After the speeches, everyone moved outside for the ribbon-cutting ceremony. Louise and Justin Hudson, the Sheriff of Gloucester cut the ribbon together to unveil the defibrillator.
Heartstarters volunteers then ran a pop-up session along the high street to teach the guests and passers-by how to do CPR and use the Northgate shop's new defibrillator. It drew large crowds and equipped many people with the skills needed to potentially save a life one day.
How you can help
If you've been moved by Sam Polledri's story and want to give someone the chance to survive, donate to the Sam Polledri Foundation.
For more information on placing a defibrillator on your building or street, please get in touch with Lisa Warrington, GWAAC's Defibrillator Coordinator on 07596 566175, lisa.warrington@gwaac.com, or by visiting https://www.gwaac.com/what-we-do/aed/
It's an absolutely incredible feeling to know Sam has given someone a chance and how important what we're doing in his name truly is.
What we're all doing together here today, Sam would be so proud of. What we're doing can save others; it can give someone a chance to survive. It's too late for Sam, but we want to ensure it's not too late for someone else's child.