About the Great Western Air Ambulance Charity
Our Critical Care Team stand ready to save the lives of local people...
We provide emergency care to people who are in a state so critical that they require the specialist skills of our team at the scene of the accident or medical incident. Though we are part of the regional 999 response service and work closely with NHS hospitals, we are a charity entirely funded by local people just like you.
GWAAC saves lives across Bristol, Bath and North East Somerset, South Gloucestershire, Gloucestershire, North Somerset and parts of Wiltshire. Without you, we couldn't do it. It's your support that allows us to keep the air ambulance going, so our team can keep saving lives.
How we work
We don't simply fly people to the nearest hospital. Our priority is to get to the patient fast. We treat people at the scene, on the road and in the air, providing complex interventions to stabilise and treat the patient and give them the best chance of a positive outcome. The service we provide is reliant on our brilliant team of pilots, Advanced and Specialist Paramedics and Consultant Doctors who specialise in pre-hospital care. 
Rapid response
Within five minutes of a call to the GWAAC base, our team can take off or hit the road and be on their way to deliver vital, life-saving treatment. With the help of people like you donating and volunteering their time, GWAAC has been able to help people like Sallyann and many others. 
We can only operate with your help
Many of our highly skilled team are volunteers who give up their precious time to help save people in their local community.
But without you, none of this could happen.
It's your donations, including gifts in wills, that allow us to fund our clinical team and keep the ambulance in the air, so our team can keep saving lives. We receive no day to day government funding and rely on your support.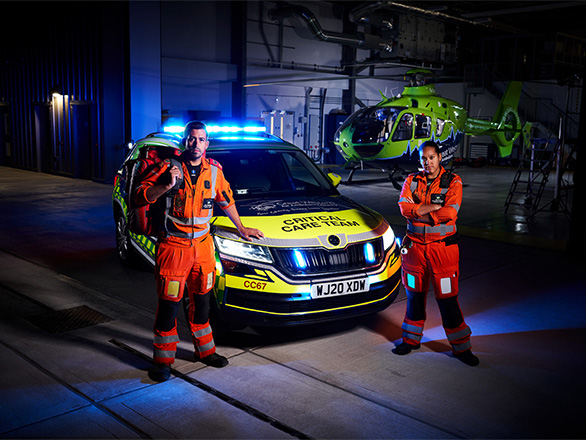 "It is some of the most challenging medicine that I've ever practised.''
As a Critical Care Doctor at Great Western Air Ambulance Charity, I know that our response to any call that comes through could mean the difference between life and death. But on a very rare occasion, there will be a patient so seriously injured that my actions over the course of a minute could make that difference. It is some of the most challenging medicine that I've ever practised.
GWAAC's Critical Care Doctor Tim gives us a rare insight into what it's like to work as a doctor in the pre-hospital environment.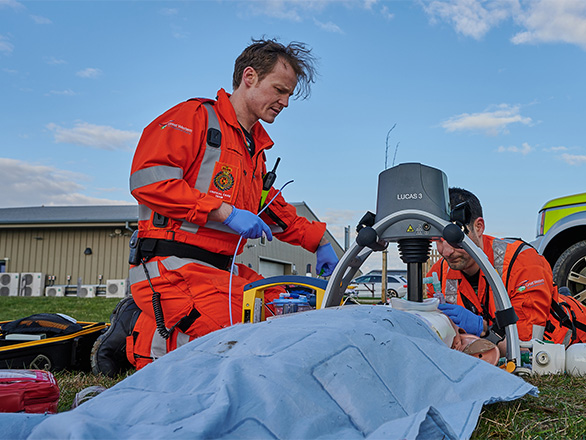 Meet the Crew
The Great Western Air Ambulance Charity team work 365 days of the year to attend emergencies across Bristol, Bath & North East Somerset, Gloucestershire, North Somerset, South Gloucestershire and parts of Wiltshire. We are one of the busiest air ambulance services in the UK, being called to over 5 incidents every single day on average. Meet our Critical Care Doctors, Advanced and Specialist Paramedics in Critical Care and Pilots below. 
Volunteer to work with us
We always looking to welcome new volunteers to our team. It's the local people who kindly give up some of their precious time who mean we are able to keep saving local lives. Everyone who works here at GWAAC is committed, enthusiastic and dedicated to keeping us flying.
We enjoy what we do because it really makes a difference – and we would love to have you as part of our team. Whether you would like to help out in our offices, would like to volunteer at a fundraising event, or put on an event of your own, we would love to hear from you. Can you help us save lives?
Career Opportunities
We have a number of exciting opportunities to join our successful charity. We're dedicated to raising the funds necessary to keep an air ambulance flying over the counties of Bristol, North Somerset, Bath & North East Somerset and all of Gloucestershire. From fundraisers to highly skilled paramedics and senior consultants, we are a team, working to save lives that would otherwise be lost. The job is high pressure, but it is deeply satisfying, and every member of the team is committed to this service, and to saving as many lives as we can.
Our Values
At GWAAC we work together as a team, with our decisions, actions and expectations being guided by our values:
We put people first
We behave in an ethical manner
We strive to decrease our environmental impact
We reflect on our performance and learn from others
We are inclusive and welcoming
We are grateful for the support we receive