Meet Pilot Rich MacLaughlin
August 30, 2023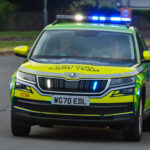 GWAAC shortlisted for prestigious air ambulance awards
September 19, 2023
On 8 August, the Great Western Heartstarters Volunteers returned to the Bristol Bears High-Performance Centre to teach two sessions of CPR and defibrillation. They first taught CPR to the Bears in 2021; this time around they were joined by Medical Director Andy Lockyer and Specialist Paramedic in Critical Care (SPCC) Fleur Rath.
Dr Andy led the sessions; one for 50 Bristol Bears Premiership Rugby players and one for around 50 coaches and staff.
It was a fun and informative day for all, involving theory, demonstrations, and hands-on practice. The players and staff moved between the Bear's Analysis Room for the theory, the gym for practicing on Mini Ann manikins, and the indoor pitch for a relay race.
A welcome from Pat Lam, Director of Rugby
During Pat's welcoming speech he explained why GWAAC is such an important service for local communities and said, "Bristol Bears and GWAAC have a great relationship and I'm pleased to have them back today to teach some lifesaving skills for on and off the pitch."
Why we're here
Dr Andy was next up to explain that although he was talking to a room of fit healthy rugby players at the low end of risk, cardiac arrests do still happen on the pitch. He said the good news is, that when a cardiac arrest happens at a big sporting event, the outcome is often a positive one because there are lots of people around who can help and start the chain of survival. He said, "By teaching simple but important lifesaving skills to you today, you will be empowered to act if needed, both as professional sportsmen and as individuals within your local communities."
"The ambulance service puts these patients at the top of their dispatch priority, but in those first few minutes when the ambulance service and GWAAC are on the way, it's those minutes that make a difference."
Dr Andy went on to say, "A cardiac arrest is not something to live in fear of. It is highly unlikely to happen at this club, but it will happen somewhere, and the more people that have the skills the better."
An introduction to CPR and defibrillation
Public Education Coordinator at GWAAC, Carlota Appleby explained, "We are aiming to empower ordinary people to do extraordinary things."
"The first thing to understand is that time is precious; for every minute that ticks by, the chance of someone surviving a cardiac arrest goes down by 10%. We want you to fill the gap and keep the person alive until our crew gets there."
The Bears then watched a video of Rugby Player, Nick Williams' talking about his cardiac arrest and learned that a team effort is required if someone is to survive a cardiac arrest.
Theory and demonstrations
Carlota advised that to help identify if someone is in a cardiac arrest and to work out if they need treatment, the DRS ABC rule can be followed. After a short discussion in groups, Carlota confirmed the meaning of DRS ABC to the room.
The Heartstarters volunteers then demonstrated the DRS ABC process on stage. Volunteer Jo was the patient, Ellie a UWE paramedic student, talked through what to do, and Hollie, a student nurse, demonstrated on Jo.
Ellie then demonstrated CPR on a Mini Ann. Carlota explained that it is not unusual to break someone's ribs when doing effective CPR – it can be very unpleasant, but it is crucial to carry on as we know that CPR and early defibrillation are the things that help save lives.
Carlota also explained what an AED is and that it stands for Automated External Defibrillator. For a public defibrillator, there will be a code. "If someone is suffering a cardiac arrest, call 999, they will tell you where your nearest AED is and give you the code." Carlota said the contents inside an AED might differ slightly: "Take whatever is inside with you to the patient. There might be scissors and a razor for cutting clothes and shaving hairy chests."
The Bears learned that preparing the patient for the defibrillator pads needs to be done by one person while someone else maintains CPR.
Carlota explained why the pads have arrows. The pad with the up arrow goes on the right-hand side at the top of the chest, and the pad with the down arrow goes to the left-hand side under the armpit. Once secured, the machine will tell you that it is analysing the patient. If it needs to shock, it will tell you to stand clear. Once it has administered a shock it will advise you to resume CPR, which you do for another two minutes until the machine commences another analysis…
While Carlota and Ellie demoed the use of the pads, the Bears started singing Staying alive — a tune with the correct beat for chest compressions (Baby Shark is another good one!).
Time to practice
It was then downstairs to the gym for the Bears to have a go themselves.
The Bears split into five groups of ten players with the Heartstarters volunteers and SPCC Fleur and Dr Andy moving around between them to help them master their CPR techniques and use of a defibrillator.
Bristol Bears player Kenzie Jenkins, said: "I think it's a useful skill to have and one we can take off the pitch too. I can see this being rolled out in more rugby clubs."
Relay fun in 'the Barn'
To end the session, the Bears, in their groups, took part in a CPR relay game; they ran from the front of the line to a manikin, performing CPR for 30 compressions then ran to the back of the queue. The team that finished first, won.
At the end of the relay, Heartstarters Volunteer Simon announced, "You've just learned a selfless act, please pass it on to others."
Simon also said, "The hope is that by teaching big groups like this, groups with a high profile, awareness will filter down into local and sporting communities."
GWHS Volunteer and Emergency Care Assistant Nick said, "We still get called to cardiac arrests where no CPR has been performed. These sessions are about giving people confidence."
As coaches and staff streamed in for the next session, Pete Burridge, First Team Athletic Performance Coach, shared why he thought these sessions were important for the Bears: "You never know when you might need to use these skills. Knowing what to do will give us the confidence to help if someone ever needs it. It's valuable and it could save a life."
Find out about Great Western Hearts, our CPR and defibrillator programme