Inspiring the next generation of paramedics
October 6, 2023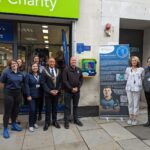 Sam Polledri Foundation raises over £66,000
October 11, 2023
On 2 October 2023, Tim Ross-Smith joined Great Western Air Ambulance Charity (GWAAC) as our new GWAAC Operations Officer. Tim is the line manager for the Advanced Practitioners and Specialist Paramedics in Critical Care; he is responsible for their welfare and making sure they stay up to date with training and appraisals.
He is also responsible, along with our Operations Manager Sean, for the day-to-day running of the airbase; he'll be making sure the crew has all the medication and kit they need, and that the cars have been serviced. Last, but not least, Tim is the primary point of contact at the airbase for the charity staff (something the charity staff are very excited about!)
A summary of Tim's career to date:
Joined Avon Ambulance in the Patient Transport Control Room in 2004
One year later he got his first role on the road in the High Dependency Unit doing paediatric retrievals for the South West
Moved to emergency ambulances in 2007, based at Yate for most of his frontline career on the ambulances
Completed his technician training in 2011
Did his paramedic conversion degree in 2012
Qualified as a paramedic in 2013. Then progressed to Lead Paramedic and transferred to the Filton ambulance base on a response car where he stayed for two years
Promoted to Operations Officer at South Western Ambulance NHS Foundation Trust in 2016. He initially worked out of Soundwell and then after a restructure, central Bristol and Weston-super-Mare from 2017. The team covered Bristol, North Somerset, and South Gloucestershire as Incident Commanders and line managers
GWAAC Operations Officer from October 2023!
When talking about the differences between his GWAAC role and his Operations Officer role for the ambulance service, Tim said: "GWAAC is a much smaller and closer-knit team. Having someone on the base most of the time will be helpful for the team. Things will get done more readily with some clear leadership. We've also got the charity's new five-year strategy to work through, so I'll help bring that online and get the clinical team engaged with it. I'll be making sure that both the clinical team's needs and the charity's needs are listened to."
Tim wanted to work for GWAAC because, "Having worked alongside the team at critical incidents, it was the team ethos and the way they worked together that impressed me and I thought I could bring my skills from both an incident management and line management perspective and have a positive impact on the team here. The new challenge for me is working with a charity but a new challenge is always good. I'm excited to be part of such a well-known and respected team and brand."
When asked what he hoped to achieve as GWAAC's Operations Officer, crew welfare was at the forefront of his mind: "The team sees some rough stuff out there. I want to make sure they are looked after and can be the best they can be. And I know it sounds a bit cliché but I'd like to leave the team in a better place than when I started (although I'm not intending on going anywhere!). I'd like everyone to feel that it's an enjoyable place to work, that they feel safe, and that they feel empowered to be the best clinician they can be, as well as the charity staff having someone they can easily come to. And where possible, I'd like everything to be ready when it needs to be. If that's being done, then I'm doing a good job."
More about the man behind the uniform
What would you do if you weren't an Operations Officer?
I'd like to be a rally driver. I'm a virtual xBox rally driver but that's about as near to it as I get!
What is your favourite thing to do when you're not working?
Family time in whatever capacity that might come in. We're all gamers (Tim, his wife and two boys) and we like to watch movies. I'm a bit partial to a dip in the hot tub with a glass of wine; it's a nice way to relax.
What are your future ambitions?
I'm looking forward to enjoying more time with my family. I've done fifteen-plus years of working shifts; my new working pattern at GWAAC will be a bit more family-friendly.
Your biggest achievement to date?
Can I say 15 years of marriage? We went to St Lucia for our 15th anniversary this year – it was an amazing place to experience.
What are your three favourite things in life?
My family (of course), my career, and cricket.
Three most hated things?
Hmm… I might have to be careful here. I'll go with traffic, hip surgery (I'm about to undergo my third round of surgery), and football, although I realise I'm alienating half the population.
Are you a tea or coffee drinker?
Coffee! I'm a bit of a coffee snob. I like proper filtered black coffee, not instant.
If you had to describe yourself in one word?
Mischievous. I'm always playing practical jokes. If there's an opportunity to play a joke on someone… I'm a bit childlike at heart.
Do you have an interesting fact you want to share about yourself?
I have been known to make the odd appearance on television — I was interviewed on ITV's TVAM by Dr Hillary and then Kilroy on the BBC — I was asked questions about being a young person with arthritis to raise awareness of younger sufferers, for the Arthritis Research Council.  Hopefully, it's not on YouTube somewhere!