Former patient holds charity ball in aid of GWAAC!
September 3, 2019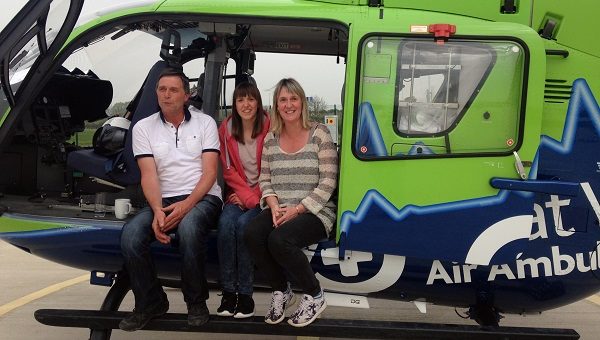 Michelle's Story
September 12, 2019
This week marks National Air Ambulance Week – a chance to celebrate local air ambulances across the UK. We are taking part in Air Ambulances UK's Golden Hour, Give an Hour Campaign.
Golden Hour is the hour following a life-threatening injury or illness when receiving critical care can save a life. This week, we're asking for organisations and employees to support their local air ambulances by simply donating an hour's profit or pay on from 4pm – 5pm this Friday 13th September.
GWAAC provides critical care for 2.1 million people across the region we serve – Bristol, Bath and North East Somerset, North Somerset, Gloucestershire, South Gloucestershire and surrounding areas, and we couldn't do what we do without people like you.
Our Critical Care Team attend the most seriously ill and injured patients, 365 days a year. Whilst we hope you will never need us, we are there for you and your loved ones if you do. From emergency blood transfusions, to putting a patient under general anaesthetic, we provide life-saving medical interventions at the scene of an incident or medical emergency, and it is this critical care given in the 'Golden Hour' that is the most crucial moment for our patients.
Do you think you could Give an Hour to save a life? All donations we receive are vital for keeping our service flying and we rely on the support from our local community, and from people like you to help us keep saving local lives.
If you're interested in taking part in Golden Hour, Give an Hour then you can find out more here. Please make sure you let us know if you're taking part for GWAAC by emailing pr@gwaac.com.
Alternatively, if this isn't for you then why not do something else to support your local air ambulance this week? You can sign up to one of our challenge events, or make a donation online today.