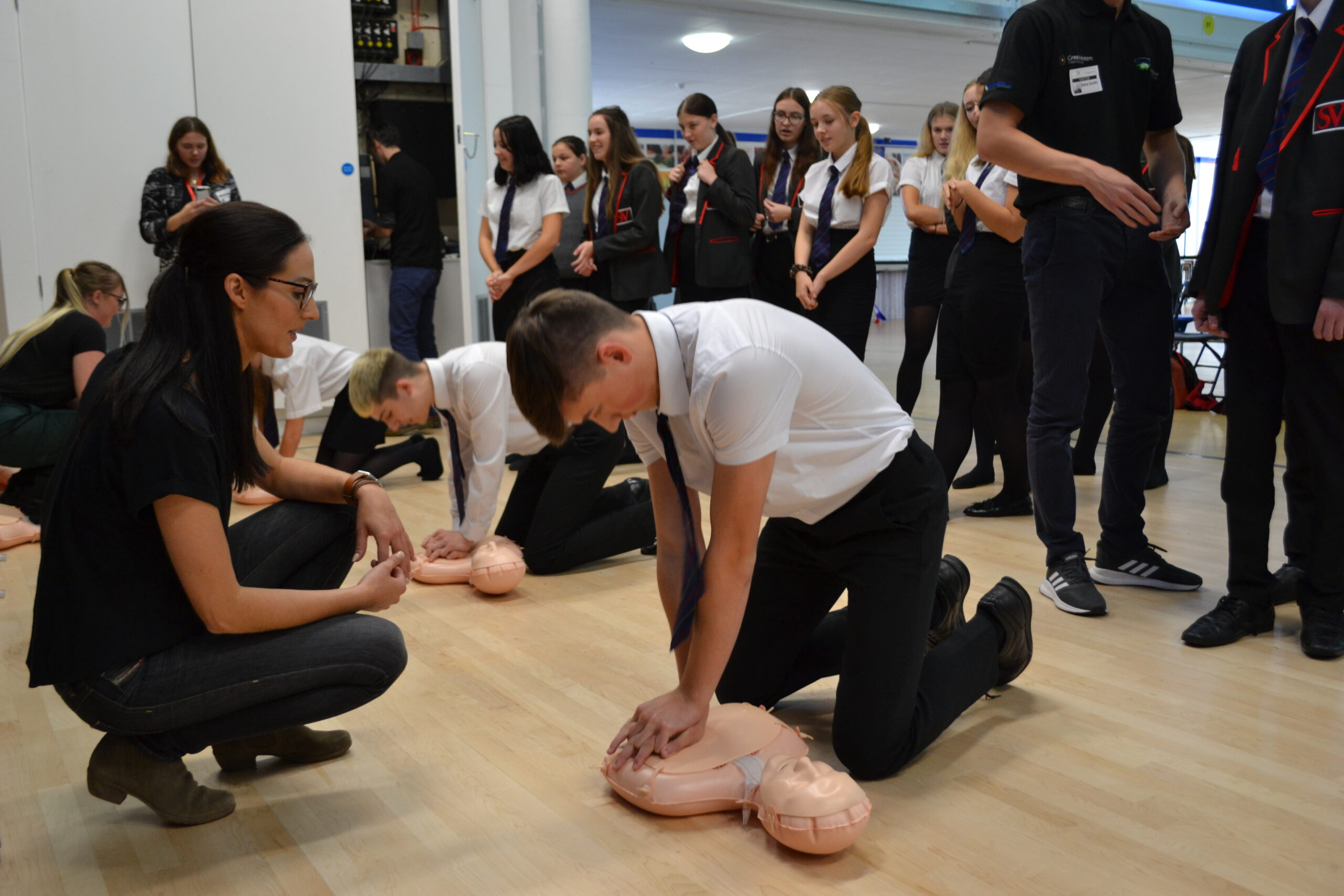 Being a Heartstarters volunteer
June 1, 2022
Cyclist needs critical care after collision with lorry
June 7, 2022
As part of Volunteers' Week 2022, we caught up with Richard and Lin Lewis, one of the many couples that have made volunteering for Great Western Air Ambulance Charity (GWAAC) a family affair.
How did the Lewis' find GWAAC?
In 2016, Richard and Lin's drama group, the Court Players Rangeworthy, nominated GWAAC as their charity of the year. They were so impressed with GWAAC, that they did the same in 2017!
It was during a tour of GWAAC's old Filton airbase when Richard and Lin were asked if they'd be interested in volunteering.
Richard recalls his first role as a volunteer — helping with the GWAAC stand at the Bristol Balloon Fiesta. Richard and his daughter Hannah were both in attendance at the start of the day, but mysteriously, just before our mascot Charlie Bear arrived, Hannah disappeared carrying a big sack. Hannah didn't get to meet Charlie that day because when she returned, Charlie then disappeared. Hmm…
How do they help?
It's now 2022 and the pair still volunteer in numerous ways for GWAAC. Richard is one of our public speakers, giving informative and engaging talks to schools, community groups and organisations across our region.
He also attends events on behalf of GWAAC; these can range from community events such as carnivals and festivals to GWAAC-organised events such as our epic abseils where Richard often partakes in cheque presentations with our supporters. And if that's not enough, Richard sometimes prepares the collection tins in our office and occasionally gets out and about servicing the tins in his local area of Yate.
Lin, like Richard, started volunteering for GWAAC at events. She now volunteers in our Yate charity shop one day a week and she's even convinced Hannah to do the same once a fortnight!
In the shop, Lin is able to try her hand at all sorts of things. Whether she's serving customers on the tills, pricing clothes, or engaging with supporters in the shop, Lin is always happy to help!
Why help?
Richard and Lin are proud of their volunteer work with GWAAC. For Richard, it's the knowledge that "We're helping to save someone's life... When we see the helicopter go over our heads, it's that feeling." Richard knows that without the help of volunteers, the crew, helicopter and critical care cars wouldn't be able to operate and save lives.
Here at GWAAC, we appreciate all that our volunteers do for us, and we really mean it when we say that we could not exist as an organisation without them. Our dedicated and incredibly friendly volunteer coordinator, Claire Harmer constantly strives to make our volunteers feel valued and appreciated.
Among other things, Claire organises volunteer Christmas parties and sends out handmade thank you cards every year. In 2021, we hosted our first volunteer conference — a day filled with guest speakers including one of GWAAC's founding doctors, Johnathan Benger and CEO, Anna Perry. The day also included the crew demonstrating how they respond to an incident and react at the scene.
What do they say to potential volunteers?
Lin says: "Do it! Definitely do it!" She firmly believes that "you get more than you give from volunteering."
Richard says: "If you've got the time and the energy, there are lots of opportunities out there for volunteers. GWAAC wouldn't run without volunteers; their contribution is greatly needed and appreciated."
If you are thinking about volunteering but are worried about how much time you might need to give, check out our blog Thank you to our volunteers. There's a useful section that debunks some common volunteering myths.
If you'd like more information about volunteering with GWAAC, please either email Ursula.Sullivan@gwaac.com or phone us on 0303 4444 999.