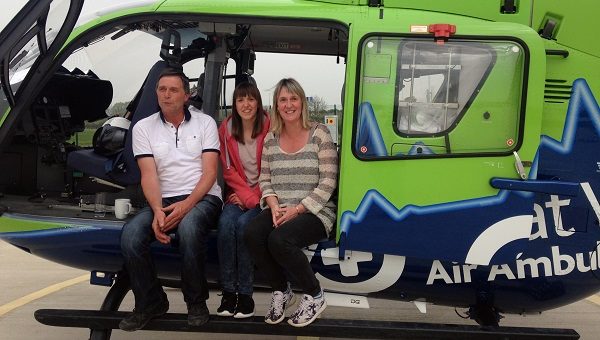 Michelle's Story
September 12, 2019
Official Royal Opening of Great Western Air Ambulance Charity's Air Base
September 25, 2019
Our community supporters are the backbone of the charity, helping us to spread the word about our vital work, and raise the funds we need to keep our service flying.
Here John, who helped organise the event with Daniel Moss, tells us about the Hurst Challenge, who celebrated their 10th anniversary at the weekend!
"The 10th Hurst Challenge took place on Sunday 22nd September 2019.  This Challenge is an endurance event over three hours, most laps completed to win. It is restricted to cars not costing the team more than £500, the car cannot have four wheel drive and must have the team's allocated number readily visible on the vehicle.  The car can be any make or size -each team decides. Teams consists of three drivers and all must drive (providing the car lasts long enough!). 17 teams entered (this is the maximum number and results every year in a 'provisional' list), and all were present for the start at 11am on a very wet morning.
"As normal, following the drivers meeting, two sighting laps were run and unfortunately the first breakdown occurred on the first lap giving the recovery team their first of many on the day. The site was on a plough ground and was extremely slippery due to the rain. Speeds were low and the attrition rate on cars was high – after 1 hour only 8 of the 17 cars were running. However, after 90 minutes the weather improved and 10 cars were running, the rain stopped and the sky brightened. 
"With 1 hour to go the sun came out, the track began to dry and speeds increased considerably making for an entertaining and involving finale. All cars suffered some mishaps during the three hours and it is indicative of the resolve of the teams that all emerged for second, third and in some cases multiple re-appearances.
In spite of the atrocious weather, a large crowd attended and were rewarded with an "interesting" event. Whilst results don't really matter, the event is competitive. Suffice to say that the long-time leader suffered some undetermined malaise towards the end, being caught and overtaken, by just one lap, by the eventual winner.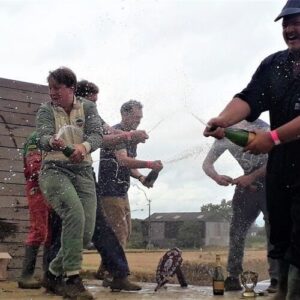 "To mark the tenth consecutive year running the event, Rebecca Miller, Head of Communications at GWAAC, presented a plate to the organiser, Dan Moss and was then invited to present the prizes to the 1st to 3rd (actually 1st, and joint 2nd) teams. She then made a spirited exit from the platform as the 'fizz' was sprayed liberally over competitors and spectators alike."
Our thanks go to Dan, his family and all involved in organising and taking part in what was a great event!