Ali's story, ten years on
August 26, 2022
Great Western Air Ambulance Charity shortlisted for six Air Ambulances UK 2022 Awards of Excellence
September 26, 2022
2022 has been a record-breaking year for our Great Western Heartstarters (GWHS) initiative. The programme has taught over 4,000 students already this year, and with the schools back in action this month (September), we have big plans to teach a lot more before the year ends!
But what is Great Western Heartstarters, why did it begin and how has it grown to become what it is today? Read on to find out…
Back in 2016, one of our then doctors, Dr Johannes Von Vopelius Feldt and our Medical Director at that time, Dr Matt Thomas realised that the UK cardiac arrest survival rates were low compared to other countries. After some research to find out why as a nation we weren't as prepared for cardiac arrests as others, they spotted that children were not routinely being taught CPR in UK schools. Lives were doubtless being lost as a result.
It's bystanders that make the difference
The crew of Great Western Air Ambulance Charity (GWAAC) take the skills of a hospital emergency department to the scene of an incident and can make a difference to cardiac arrest patients. However, it's the moments before they arrive on scene that are crucial. It's the bystanders — the people who witness the event — members of the public, even children, who can make the biggest difference to survival rates.
GWAAC Critical Care Doctor, Dr Matt Thomas said: "In a situation where someone's life is in danger every minute counts. We can be anywhere in the region that we cover within 20 minutes, but the care that the person receives before we get there can play a vital part in their survival. Everyone should know basic CPR skills, and our team are passionate about helping people to acquire these skills and giving them the confidence to use them if they have to.
"Heartstarters aims to equip the next generation of potential lifesavers with the skills they need to help someone who goes into cardiac arrest. The outcomes for patients who have received bystander interventions prior to our team arriving are much more positive."
Learning basic life support skills at school
Our doctors felt it was important that basic life support skills are made available to young people because statistically it's more likely that the person you witness suffering a cardiac arrest will be someone you know – a parent, grandparent, auntie, uncle. They believed that if young people were able to start the process of CPR as quickly as possible it could increase the chance of survival for many patients.
At the time, Dr Matt Thomas said: "When somebody suffers a cardiac arrest, time is so important. To teach people to be able to get a heart started is such a valuable life skill. It effectively saves lives and that's why we want to create a generation of Heartstarters in our communities."
We also know that children have a great multiplier effect. When they learn something, they are more likely to tell others. GWAAC hoped the message about the importance of CPR would travel home with children after school, telling their families at dinner time or on the walk home – and consequently mums, dads or grandparents would be inspired to refresh their memory of the basic life support skill. As well as this, giving children hands-on training at an early age means they'll be much more excited to get involved and they are more likely to remember the skills as they grow older.
And so, on 16 October 2016, Great Western Heartstarters was formed. It began in Bristol with a plan to roll it out across the rest of the region we serve over the coming years.
Volunteers are the backbone
It takes an army of volunteers to teach the children in our region. The early plan was to recruit instructors from the array of medical courses offered by the University of the West of England (UWE Bristol), where the initiative was launched. The University helped us kick start the programme by securing student medics including doctors, paramedics and UWE Bristol nursing and allied health professions students.
In March 2017 we opened our then home, Filton airbase, to the UWE students who wanted to become instructors so they could learn how to effectively teach CPR — and they teamed up with GWAAC to deliver the training sessions.
Now, our Great Western Heartstarters volunteers are all basic life support trained and come from the healthcare profession, emergency services, and universities in our region. This ensures high quality training but also provides positive role models for students because they are being taught by people who are likely to have used these skills in the real world; they have the experience and knowledge to talk about the subject, inspiring the next generation of healthcare professionals. 
What do children learn?
Great Western Heartstarters is all about sharing knowledge to empower and inspire young people. Research shows that the use of a defibrillator combined with CPR can more than double a patient's odds of survival, and because many secondary schools already have a defib on site, it's vital that pupils know how to use it.
Our volunteers deliver Heartstarters CPR and defibrillator training to year eight and nine students in sessions that last around 45 minutes.
There are several benefits to the lessons as children will learn:
How to recognise a medical emergency, including cardiac arrest and heart attack
How to stay calm in an emergency
How to move through emergency response procedures, including dialling 999 and putting someone in the recovery position
How to perform CPR and use a defibrillator with confidence
A Heartstarters Timeline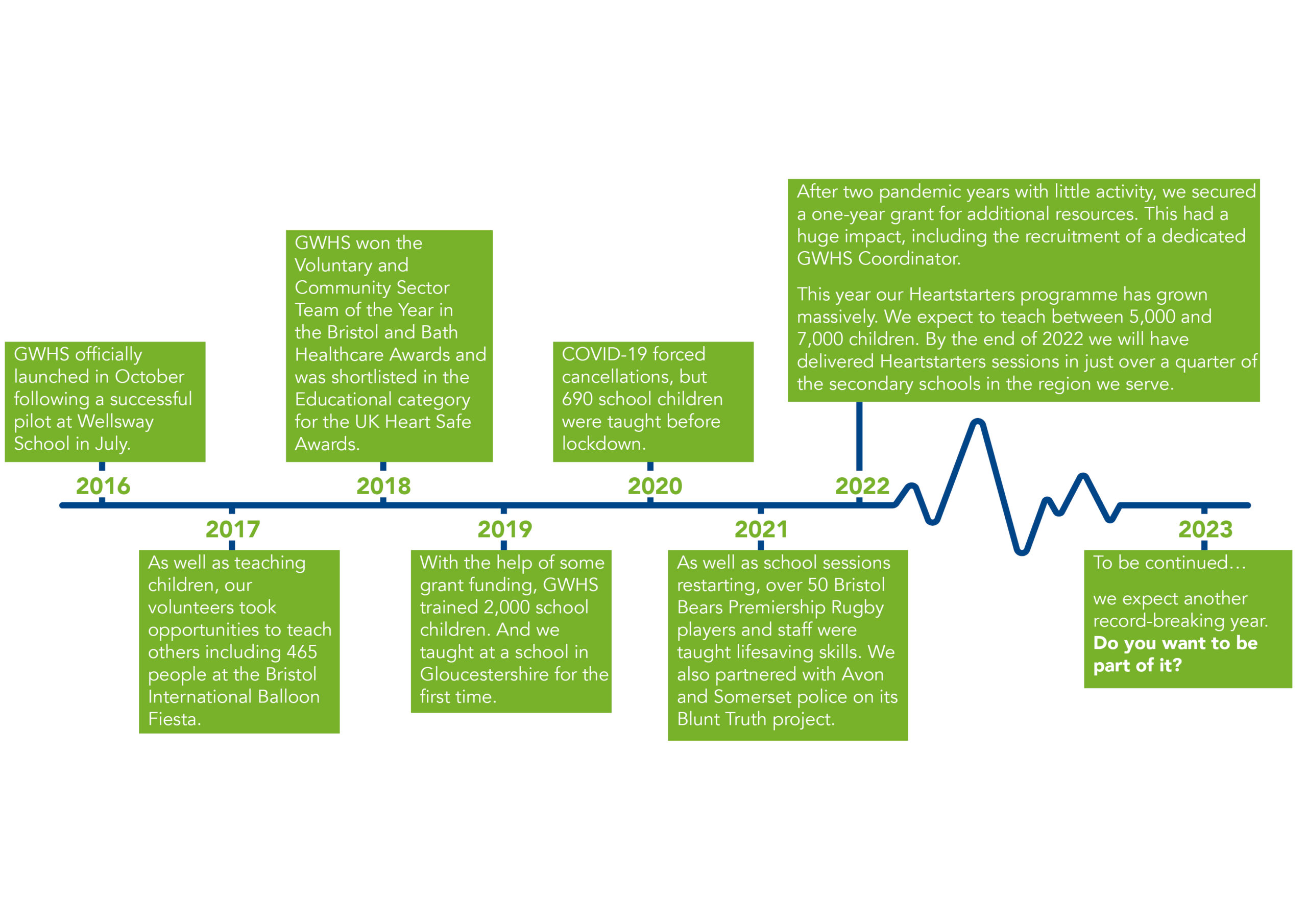 The better trained a population is, the more likely that a bystander will step in and perform lifesaving techniques until emergency services arrive. If you are a healthcare professional with an interest in empowering the community by teaching CPR to children, why not find out more about becoming a Heartstarters volunteer.
You can make an important investment in children today, and they may end up saving a life tomorrow.