Great Western Heartstarters
Inspiring a generation of life-savers
Great Western Heartstarters is our training initiative teaching children in our region (Bristol, Bath and North East Somerset, North Somerset, South Gloucestershire and Gloucestershire) how to deliver effective CPR and use an Automated External Defibrillator (AED).
Our aim with Great Western Heartstarters is for every child in our region to leave secondary school with the confidence and skills to deliver early life-saving interventions.
Over a third of the missions our Critical Care Team attend are cardiac arrests – where someone's heart and breathing have stopped. In a situation where someone's life is in danger, every minute counts. Our crew can be anywhere within our region within 20 minutes, but the care the patient receives before we get there can play a vital role in their survival.
Currently, only 8% of people who suffer an out-of-hospital cardiac arrest survive, but receiving CPR within the first 2 minutes can double their chance of survival – which is why we want to create the next generation of life-savers with Great Western Heartstarters.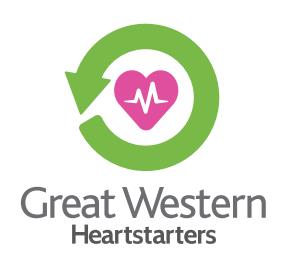 What do we do?
The Heartstarters sessions are delivered by a range of healthcare professionals, including doctors, paramedics, nurses and healthcare students who volunteer to deliver the training in secondary schools and youth groups across the region.
The sessions involve a demonstration of DRS-ABC methods – Danger, Response, Shout, Airway, Breathing, and CPR. The students are then split into smaller groups for a practical session, where they each practice the recovery position, DRS-ABC and how to use an AED.
Since 2016, we have trained over 4,000 school children these potentially life-saving skills. The programme, which is completely free and volunteer led, aims to teach 3,000 more school children in 2020.
Booking a session
If you work for, or know of a state school or youth group who would like to book a session or find out more about the programme, please contact our Volunteer Coordinator Claire, on claire.harmer@gwaac.com or call 0303 4444 999.
Volunteering with us
Do you come from a medical background and would like to get involved with delivering the sessions? Get in touch with Claire on the details above.
Recognition
In 2018, Great Western Heartstarters won Voluntary and Community Sector Team of the Year at the Bristol and Bath Health and Care Awards. 
Chair of Great Western Heartstarters, Dr Johannes Von Vopelius Feldt, said: "Winning this award is an amazing achievement for our volunteers. It will help us teach lifesaving skills to even more school children in the region and increase knowledge about the importance of bystander CPR for cardiac arrest. Our volunteers are healthcare providers or healthcare students from different backgrounds and their knowledge, enthusiasm and dedication sets Great Western Heartstarters apart. I am honoured to receive this award on behalf of such an amazing team."
How is it funded?
GWAAC provide the financial and organisational support needed for the running of Great Western Heartstarters – establishing connections with schools and maintaining the equipment to deliver the practical sessions.
In 2016, we received a grant from George Bairstow Charitable Trust (GBCT) which was instrumental in getting the programme off the ground, and in January 2019 we received a further funding from GBCT to enable us to run more sessions across Bristol and South Gloucestershire.
We would also like to extend our thanks to South Gloucestershire Council who gave a grant to fund equipment for running sessions across South Gloucestershire and to TSB who awarded us a Local Community Fund grant in January 2019 to extend the training to schools in Gloucestershire.
The money donated to GWAAC will help us reach more school pupils across the region, teaching them vital life-saving skills.