Fundraising Resources
June 17, 2020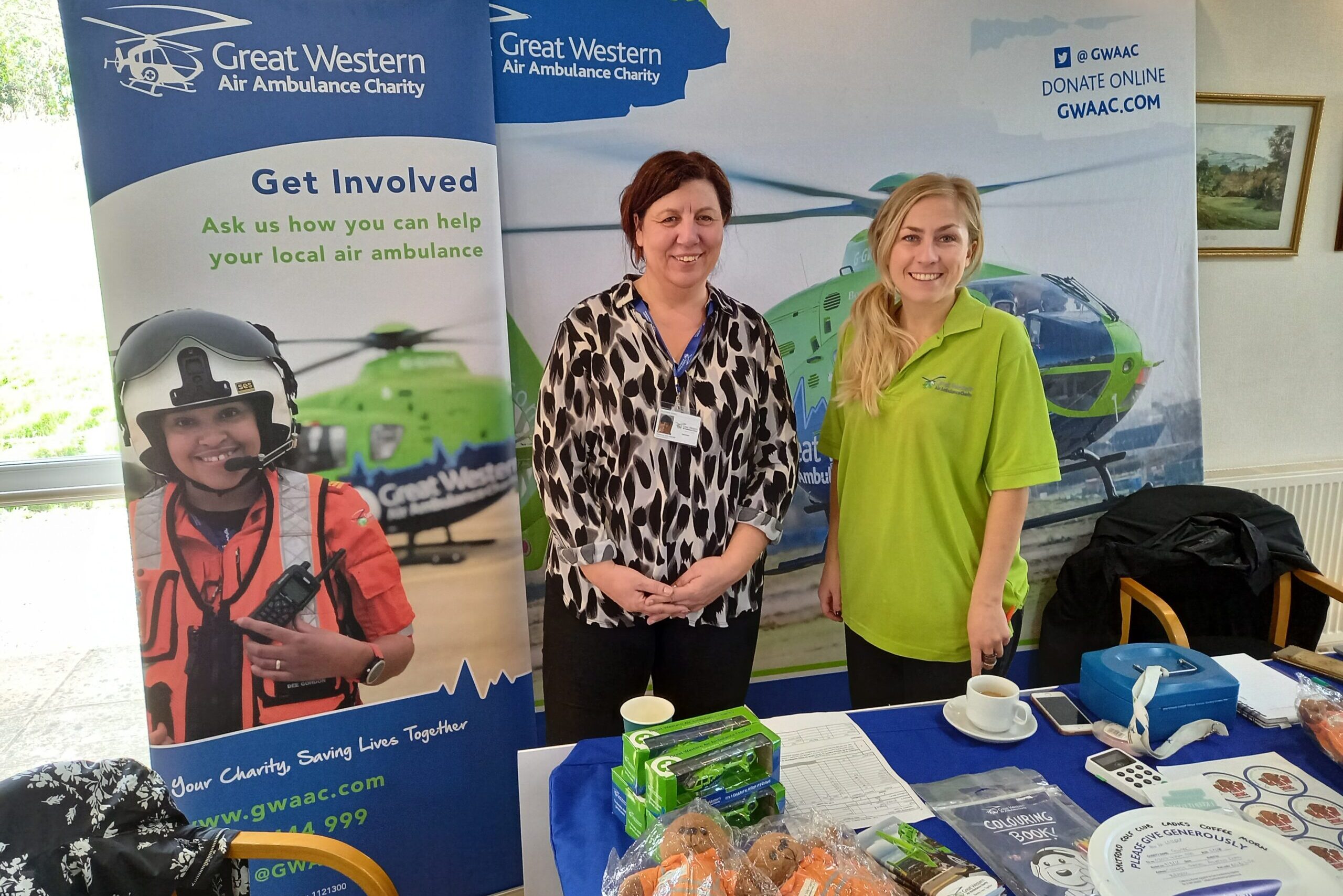 A coffee morning with the Saltford Ladies
April 8, 2022
As with any event, there are some things you need to consider before running it, such as whether you have the correct licenses for cash fundraising, or public events, serving food or alcohol and taking photos and videos of attendees.
If you have any questions or concerns about the health, safety or legality of your event then get in touch with us at info@gwaac.com or 0303 4444 999. 
Licences
If you are collecting cash donations in a public place or private property, make sure you get the right permission and permit to do so.
If you are holding an event in public, then you might need Public Liability Insurance. Many venues will already have this, so check with them first. Your local authority will also be able to let you know which licenses, if any, you need for your event.
If you are fundraising at home, then make sure your home insurance covers you for any accidents.
Serving alcohol
If you want to serve alcohol at your event then the venue needs to have the correct license to do so.
Photos and video
Capturing your event is great for spreading the word and remembering the day but make sure you ask people if they are happy to be photographed or videoed first and get permission to share them on social media or in other materials. You must gain consent from a parent or guardian if you take any images or videos of children.
If you provide GWAAC with photographs or videos taken during your fundraising activity, you agree that these may be used by GWAAC for commercial and/or fundraising purposes. By sending these to us, you are also confirming that anyone featuring prominently in the photograph or video is aged 16 or over, and that they have consented to their image being used in this way.
Food safety
You don't need a food hygiene certificate to sell food as part of your fundraiser, but it's a good idea to check the guidance at food.gov.uk on anything you should be aware of.
Lotteries, raffles and collections
These are a great ways to boost fundraising but there are laws on how you can and can't promote them so check these out at gamblingcommission.gov.uk if you are concerned.
Basic sweepstake guidelines
Sweepstake competitions are a great, fun way to fundraise but there are some basic rules that you need to follow if you plan on running your own:
 The entry price must be the same for all participants.
You need to decide before hosting your competition if the entry money will be split between the winner and GWAAC, or if you are going to have a separate prize and have all entry fees going to the charity. Participants must be informed before they enter and the host cannot make a profit, the funds must be donated.
Office sweepstakes can only take place in one office with people in the same premises.
You must not sell entry on the street or house to house. For more information on the rules of running your own fundraising sweepstake please visit the Gambling Commission website, www.gamblingcommission.gov.uk.
No more than £500 may be spent on prizes (but other prizes may be donated);
The promoter may not deduct more than £100 from the proceeds in respect of the expenses of organising the lottery such as printing tickets; and
The rest of the proceeds must go to the nominated "good cause" (not private gain).
Messaging on any branding/promotional material
On all promotional material, you need to make it clear that you are not GWAAC and that you are organising your fundraising activity as an independent supporter of GWAAC. You should therefore use words like 'fundraising in aid of GWAAC' or similar, when referring to raising money, rather than on behalf of GWAAC.
As your event is not being arranged or managed through GWAAC you will need to ensure you have adequate insurance in place to cover you against any foreseeable liability.
If you are fundraising and you anticipate the event to cost you money and that you will deduct this from the total raised then you can't say, on any promotional material, that GWAAC will receive all proceeds/100% of the donation. You can indicate that proceeds of the money raised will go to our cause.
Unless GWAAC has provided you with branded materials as a result of your registration, you may only use the GWAAC name and logo for your fundraising activities with our permission. To apply for permission, you will need to let us know how you propose to use the GWAAC name and/or logo on your own materials by emailing pr@gwaac.com and provide us with examples and/or samples of such use if we request it.
Use of Personal Data and Consent
By providing your information when you sign up to fundraise for GWAAC, GWAAC can use the details to discuss your fundraising activity and follow up on your progress.
Your personal information may also be used for the purposes of sending communications to you where you have confirmed that you would like to receive further information about the charity's work when signing up to fundraise for GWAAC.
All personal data held by us will be handled in accordance with applicable privacy laws and GWAAC's privacy statement which can be found at www.gwaac.com/privacy.
Legal and Ethical Fundraising
We have taken some guidance from the Fundraising Code of Practice and outlined it below. More comprehensive information can be found here.
Behaviour when fundraising
1.1. General behaviour
1.1.1 Your fundraising must be legal and must be open, honest and respectful.
1.1.2 You must be polite to people at all times.
1.1.3 You must not unfairly criticise or insult other people or organisations.
1.1.4 You must not encourage a donor to cancel or change an existing donation in favour of a donation to another charitable institution.
1.2. Asking for support
1.2.1 While reasonable persuasion is allowed, you must not fundraise in a way which is an unreasonable intrusion on a person's privacy, is unreasonably persistent or places undue pressure on a person to donate.
1.2.2 You must not continue to ask a person for support if that person clearly indicates – by word or gesture – that they do not want to continue to speak to you. You must end the conversation in a polite way.
1.3. Informing donors and treating people fairly
1.3.1 You and the fundraising materials you use must not mislead anyone, or be likely to mislead anyone, either by leaving out information or by being inaccurate or ambiguous or by exaggerating details.
1.3.2 Before you make any direct or implied claim in your fundraising which is likely to be taken literally, you must make sure that there is evidence to prove the claim.
1.3.3 You must not take advantage of mistakes made by a donor.
1.3.4 When talking about finances and financial benefits, you must tell donors that you are not in a position to offer formal financial advice.
1.3.5 Your fundraising must meet equality law as it applies in England, Wales, Scotland and Northern Ireland. You must not discriminate against people with characteristics protected under the law of these countries. You can get more information f rom the Equality and Human Rights Commission and the Equality Commission for Northern Ireland.
1.3.6 You must take all reasonable steps to treat a donor fairly, so that they can make an informed decision about any donation.
1.3.7 You must take into account the needs of any possible donor who may be in vulnerable circumstances or need extra care and support to make an informed decision.
1.3.8 You must not exploit the trust, lack of knowledge, apparent need for care and support or vulnerable circumstance of any donor at any time.
1.3.9 You must not take a donation if you know, or have good reason to believe, that a person lacks capacity to make a decision to donate, or is in vulnerable circumstances which mean they may not be able to make an informed decision.
Among other things, you should consider:
any physical or mental-health condition the person may have;
any disability the person may have;
any learning difficulties the person may have;
whether the person is facing times of stress or anxiety (for example, following the death of a loved one or redundancy);
whether a donation is likely to affect the person's ability to sufficiently care for themselves or leave them in financial hardship;
how well the person can communicate and understand what they are being told;
whether the person is under the influence of alcohol or drugs; and
the person's age.
1.3.10 If a donor makes a donation while they do not have the capacity to make an informed decision, you must return the money to them.
1.3.11 You must take all reasonable steps to avoid asking for regular donations (for example, by direct debit) from anyone aged under 18. Young people aged between 16 and 18 can take part in charity lotteries, but if you receive money for a lottery from a child or young person aged under 16 you must return the money.