Former patient: Sallyanne's inspirational story
June 18, 2020
Dairy farmer dons a funky new look to raise money for GWAAC
June 25, 2020
Earlier this week, we shared some aerial pictures of the city of Bath. Now it's some going to beat our incredible shots of Clifton Suspension Bridge, but in those images, with Bath Abbey, Pulteney Bridge (and of course, The Rec) I reckon Brunel's Bridge has some very good competition!
In the post, we asked everyone what their favourite places were and we had some amazing suggestions for spots that we will definitely be paying a visit after lockdown. Thinking about some of my favourite places, I realised that it's not always the most obvious answers that come to mind.  In Bath, there are incredible views of the city from the Skyline walk or from Thermae Bath Spa, but one of my favourite views of the city is on the way down from Larkhall, heading back into the hustle and bustle of the city centre.
It's a lovely view in and of itself, but when I was thinking why I liked it so much, it struck me that our favourite spots are
those that connect places with people. This view is just around the corner from New Oriel Hall, where the Larkhall Friendship Circle meet, a group who have been supporting GWAAC for a number of years. It is just down the road from a number of our collection box hosts and down the hill from our friends at Bath Racecourse. In the distance, you can almost see our partners at the University of Bath.
We're pretty lucky in the community team – our jobs are about meeting incredible people who are going the extra mile to make a difference in their local communities. We get to feel connected to people and places in a way that we never take for granted.
GWAAC is part of a very special community, all across the South West, full of wonderful places and amazing characters who go the extra mile to keep us flying. I often find myself crossing from East to West in our patch, from Bath to Weston-super-Mare, a route that is full to bursting with incredible sights.
Of course the Chew Valley is great and all, but it's the folk at the Druids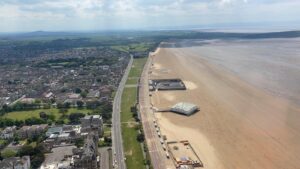 in Stanton Drew, the Tibbs family and their birthday fundraising, the residents of Sandford Station and all they do for us, that mark the waypoints of our community map.
Sand Point, Birnbeck Pier, and Uphill are all beautiful spots, but it's the people of Weston Lions, the Mixed Skittles League, and The Atlantic Fish Bar (whose collection tin seems to fill automatically!) who are the real jewels in the community crown. Without them, GWAAC simply couldn't be there, ready to respond in our shared community.
Which brings us back to Larkhall. Our crew attended an incident earlier this week in the local area, and one resident took the time to share some photos with us, made a donation, and wrote the words below:
 "These guys are there when we most need them and they rely on donations to keep going. Thank you to all our wonderful service people who help keep this lovely cause going and donate their time and expertise to make sure people get the very best care at the most critical of times."

That's a pretty good description if you ask me.  It is this incredible GWAAC community who keep our helicopter flying and our critical care cars on the road. And maybe, just maybe, goes some way to saying why Larkhall is one of my favourite places.
 Ian.
If you would like to be a part of Team GWAAC and the incredible community of people who make our work possible, think you could host a collection tin, or would like to make a donation in support of our work, you can 
get in touch with our team here
.