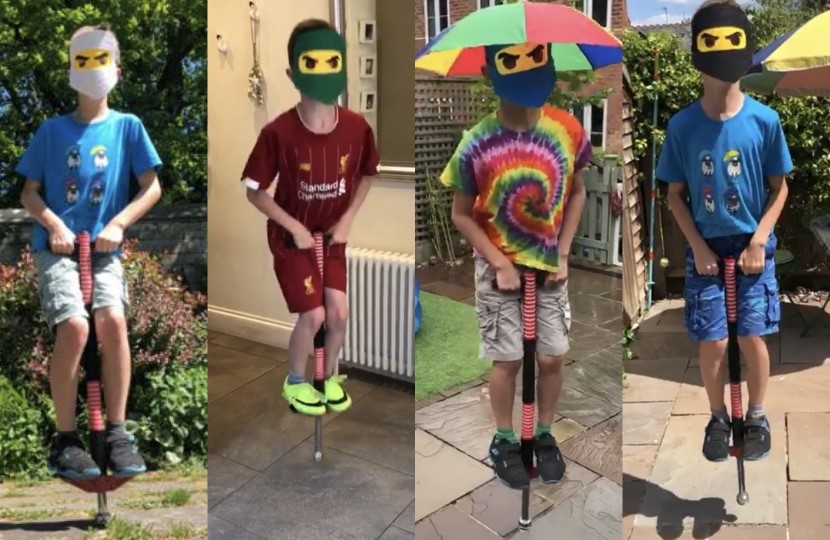 Nine-year-old 'pogo-ninja' takes on 10,000 hops for GWAAC!
June 12, 2020
Community Blog – GWAAC is part of a very special community
June 19, 2020
It's been nearly 7 years since former Bristol nurse, Sallyanne's life changed forever. Her story is one of inspiration as Sallyanne explains how she has overcome new challenges and turned her life around after her accident – bringing positivity with her every step of the way. "I look at how far I have come and I smile," said Sallyanne.
On October 10th 2015, Sallyanne was riding her horse at a cross country event, when the horse reared and fell over backwards, landing on top of her. In that moment, Sallyanne knew her life was changed forever.
"I had broken my vertebrae from T11 – L2 and sustained a spinal cord injury at L1. I was paralysed from the waist down, with bladder and bowel complications and was going to be in a wheelchair for the rest of my life."
Due to the severe nature of Sallyanne's injuries, our crew were called to scene to administer strong pain relief and take control of Sallyanne's injuries before airlifting her to Southmead Hospital, the nearest Major Trauma Centre.
"One of the Doctors, Greg, held my hand the whole time and never left my side throughout the whole procedure, the reassurance he gave me was wonderful. I knew I was in safe hands," Sallyanne recalls.
Sallyanne underwent a nine-hour operation on her spine, and after a further six months spent in hospital, was finally allowed to return home to her two children, Harry and Stella, and start rebuilding a new life. Although this came with its many challenges, Sallyanne's journey is one of strength and courage.
Sallyanne lived in a three-story town house with her two young children, and so adjusting her new life to her surroundings was not an easy task.
"I had a hospital bed in my lounge, and I slept downstairs for nine months. I couldn't get to the bathroom to use the loo or shower, so I went to a friend's house once a week and the local sports centre for a shower. This was extremely difficult – washing in the kitchen sink has its challenges!"
Setting about her mission to make her home liveable, Sallyanne started saving and fundraising to enable her to make changes to her house so she could live there independently with her kids. In April 2017, alterations begun to turn her house into a more accessible home.
Since her accident Sallyanne has achieved incredible things, from learning to drive again, and organising many charity fundraising events, including a charity ball in aid of GWAAC that raised £6,000, and now works supporting other individuals who have suffered spinal injuries and have bladder and bowel conditions. However, the most important challenge for Sallyanne, was facing getting back in the saddle following her accident.
With the support of close friend, Beth Hobbs, Sallyanne embarked upon her journey to get back in the saddle, and after a lot of hard work, perseverance and fundraising for a hoist to get her on a horse, Sallyanne sat on a real horse just 18 months after her accident. Sallyanne has now been graded by British Dressage as a Grade 2 Para rider, and has ridden for the country in a number of competitions.
Sallyanne continues: "In the past four and a half years since my injury me and my family have made some amazing memories, from going water skiing to holidaying on a cruise, to taking part in a triathlon to riding at my first dressage competition. We have adapted our house and made everything accessible which make daily life easier, nothing gets in our way and we tackle most things with a smile and much laughter. I am so lucky to have amazing family and friends."
Sallyanne was invited to visit the Great Western Air Ambulance Charity base back in 2018 to meet the crew who attended to her on the day of her incident, Critical Care Doctors Ed and Greg, and Specialist Paramedic, James.
Sally said: "They are absolute angels. I was moved to tears when I met them. Just hearing and talking about how dedicated they are to the service, we are very lucky to have them."
"GWAAC is a very close charity to me and my family, who came to my rescue on that fateful day. I would definitely encourage people to donate and raise money for this local charity, as you never know when you or someone you know may need its services. Have fun organising an event, or even a coffee morning – every bit helps. I look at how far I have come and I smile."
They are absolute angels. I was moved to tears when I met them. Just hearing and talking about how dedicated they are to the service, we are very lucky to have them