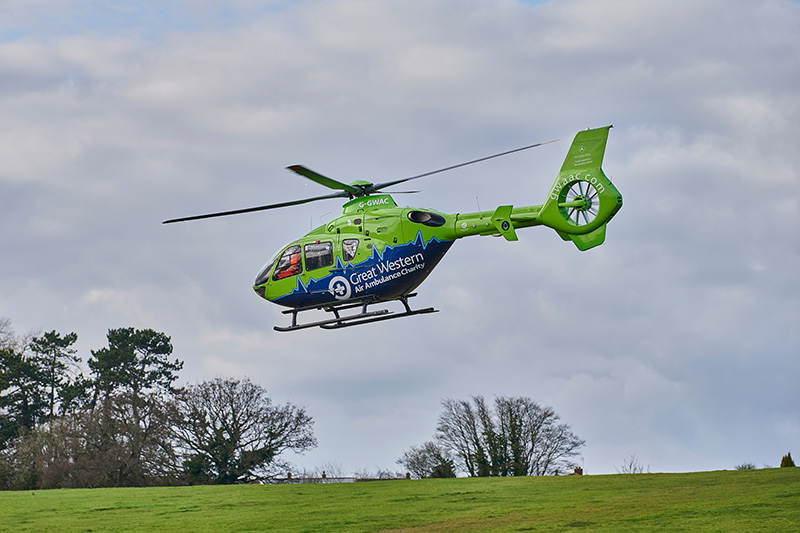 A 'typical' day for the crew of Great Western Air Ambulance Charity
May 27, 2021
Ultrasound Machines
June 4, 2021
Chris Herbert, 71, from Bristol is setting saddle on Sunday 30 May to complete the 1,000-mile cycle from Lands End to John O'Groats.
Something that's been on his bucket list since a young boy, Chris is finally getting to tick it off six decades later, in order to raise money for his local air ambulance.
Chris chose to undertake this challenge for GWAAC after our critical care team attended his mother-in-law on Christmas Day in 2018 following a serious fall in which she badly broke her femur. Specialist Paramedics Jack and Pete were called in to provide advanced pain relief and care on scene before transferring her to Southmead Hospital's major trauma centre.
"Mum had broken her femur in two, and sadly died five days later, but we will be eternally grateful to the paramedic team and to Jack and Pete who were called in and cared so beautifully for her prior to, and during her transfer to Southmead.
"I think it's a fantastic charity, I was concerned that COVID would had an impact on your donations and so when I came to doing this, GWAAC was an obvious choice to me to raise money for."
Chris, who suffers from mitochondrial myopathy, a condition that causes muscle weakness and pain, only took up regular cycling back in 2014 after a series of knee operations left him being advised to do less running. However, not one to shy away from a challenge – he has undertaken several marathons and considerable distances by bike since then.
Chris isn't new to cycle challenges, however. Thirty years ago, he took on a 166-mile tandem cycle from Bristol to Oxford with his wife. They completed the distance on the hottest day of the year in June, raising money for a young woman with a rare spinal tumour to fund lifesaving surgery in America.
The route will see him travelling an average of over 70 miles a day by bike, starting from Land's End in Cornwall and following the famous route up to John O' Groats in Scotland. Chris will cycle between seven to eight hours each day, and is joining a group who have regularly cycled the route.
"My daughter and three grandchildren are in Exeter, so I will meet them when passing through on Tuesday and then I will be cycling past my house in Bristol so at least I will have family to cheer me on at those points," said Chris.
"The challenge now will be to do the distance on 14 consecutive days, but my enthusiasm and determination will see me through!"
Chris has set himself a fundraising target of £1,500 for our local lifesaving charity. If you would like to read more or support Chris' journey, visit his JustGiving page here.