Saving Lives This Christmas
November 30, 2021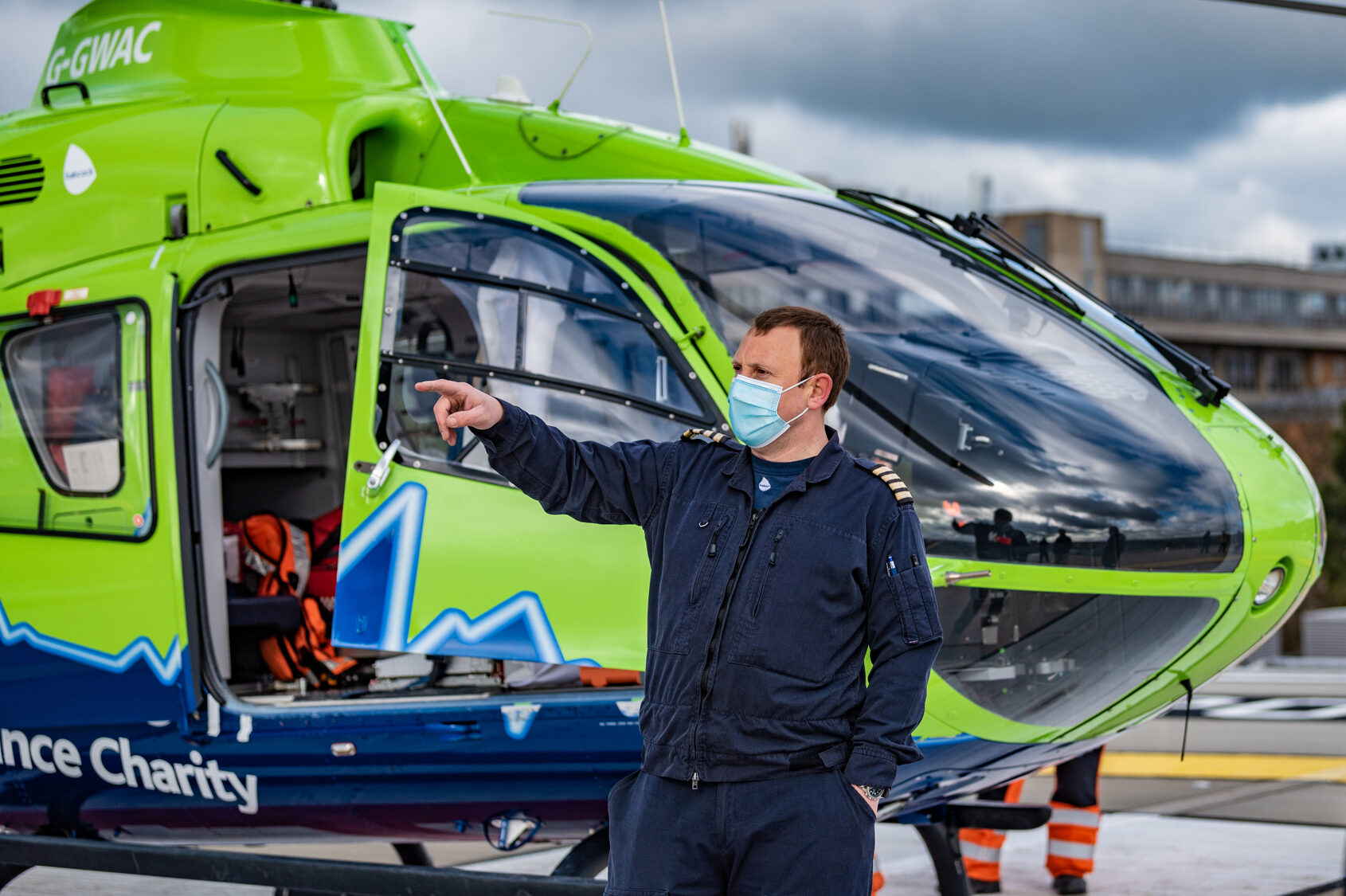 Pilot Alan Petch wins National Award
December 9, 2021
Friday 3 December 2021 — Air Ambulance UK Awards of Excellence
This Friday we see the long-awaited return of the Air Ambulance UK Awards of Excellence. COVID-19 put a stop to the 2020 awards, but they're back this year in a new virtual format. And we're proud to announce we have three GWAAC heroes shortlisted for three special awards.
Sponsored by BMW, this year's awards recognise clinical and aviation excellence alongside the outstanding achievements of head office charity teams, campaigns, innovations, volunteers, and young people.
"The professionalism, excellence and dedication of all those who work within the air ambulance community is extraordinary. We are incredibly proud that these Awards recognise their vital contribution to providing advanced pre-hospital critical care."
Simmy Akhtar, CEO, Air Ambulances UK
To be shortlisted is a great achievement and whatever the outcome, James, Alan, and Hattie are winners to us.
Critical Care Practitioner of the Year – James Yates
James, a GWAAC Specialist Paramedic in Critical Care (SPCC), has been with us since 2014. In that time, James has played a huge role in helping to grow both his own professional knowledge and GWAAC as an organisation. Here are just a few of the brilliant things James has achieved over the years:
15 years of international experience in a diverse range of pre-hospital care roles means James has excelled at educating others and speaking at large conferences such as the London Trauma Conference
As the first crew member to stand ready to undertake transfers of critically ill COVID-19 patients, James has supported the NHS in the fight against the virus
James is amongst a very small group of paramedics in the country to have passed his Non-Medical Prescribing course (in June 2021). He can now administer certain potentially lifesaving drugs in an emergency without a doctor's approval
Having recognised an opportunity to enhance his medical skills and provide expert care to patients, James trained as an Advanced Paramedic through learning about neonatal transport. James is one of only two Advanced Paramedics in neonatal care in the whole of the UK — go James!
We've only really scratched the surface in terms of the value that James brings to GWAAC. There's no doubt that James' specialist skills and compassionate nature will benefit children in GWAAC's catchment area for years to come.
"If we get a transfer then I'll be the first GWAAC Specialist Paramedic to be involved with a COVID-19 transfer. I'm a bit nervous about facing the virus in its most devastating form, but I'm pleased to use my skills to support our NHS colleagues and tackle this virus together."
- James Yates, SPCC, GWAAC (on being on the frontline with COVID-19)
Pilot of the Year – Alan Petch
We've only had
Alan
for a year, but what a year! Since starting a permanent role with GWAAC in November 2020, Alan has demonstrated exemplary professional standards that have had a huge impact on GWAAC's operations, his colleagues, and the community he serves.
In our eyes, Alan absolutely deserves the Pilot of the Year Award. Here are a few reasons why:
Alan's pioneering use of technology has improved decision-making when it comes to the best transport options for reaching patients. He has stretched the minds of many crews with what is possible with aviation
Always looking to find something that doesn't work as well as it could, Alan then sets about changing it, often finding opportunities that others may not have noticed. He turns ideas into reality, paving the way for better outcomes and sustainability
Within weeks of starting at GWAAC, Alan embarked on a Landing Sites project to create a database of potential landing sites within the charity's operating area. Alan spent hours tirelessly pulling information together. The result being crews now have much better situational awareness when deciding whether to travel to a patient via road or helicopter
Alan has opened doors by identifying schools with suitable landing areas; conversations can now begin with those schools to see if the GWAAC crew can use their sites to get to nearby patients.
Alan's colleagues describe him as a 'star on scene'. He goes out of his way to help clinicians at every opportunity — always prepared to 'lift and shift', manage others, and contribute in any way possible. His determination to improve the way we operate means everyone can make a positive difference to patient outcomes whether Alan is on shift or not.
"Thanks to Alan's work I see the crews often deciding to go by helicopter instead of car because hundreds more landing sites with suitable approach and departure routes have been identified… he had the vision, drive and tenacity to make this happen. The landing sites are now located in electronic mapping making them readily visible to crews as they decide how best to get to patients. This model is likely to impact Air Ambulance Charity decision making across the country".
- Nick Tindall, Head of Operations, GWAAC
Young Person of the Year – Hattie Rowe
And last but certainly not least, our youngest star Hattie...
She may only be 7 years old, but little Hattie Rowe brought us all some lockdown inspiration earlier in 2021 when she embarked on her own huge personal fundraising challenge in aid of GWAAC. Hattie raised more than £11,000 in just over a month!
In between homeschooling, Hattie set herself a challenge of completing 750,000 steps across the month of February. With most people striving to reach 10,000 steps a day during lockdown, Hattie took this idea and went above and beyond. Her goal was almost 27,000 steps and over 10 miles of exercise a day!
Hattie was inspired by the fundraising efforts of her mum and a group of friends who help organise the annual Mellow in the Meadow Festival in South Gloucestershire in aid of GWAAC.
Keeping it in the family, Hattie walked, ran, swam, and rode her pony to victory. During the challenge, Hattie's father, Nelson, said:
"She's nearly fallen asleep in her tea a couple of times bless her. She is making a huge effort and that has been reflected in the very generous sponsorship."
He went on to say,
"She could not do it without the support of her mother, Thomasia, who always wants to do something for charity."
Hattie blew her initial target of £500 out of the water; she raised an incredible £11,179 which is a significant contribution to Great Western Air Ambulance Charity.
With each mission costing an average of £2,000 and the crew is called out to approximately five people in urgent need every day, Hattie's raised enough to fund the air ambulance charity for a day. She's potentially saved five people's lives! What an outstanding achievement.
Here's a selection of some of the inspired comments from Hattie's JustGiving page to help you understand why she truly is, 'Young Person of the Year':
A challenge of epic proportions executed flawlessly. I once donated to a guy called Mark who simply biked up a hill. This inspirational effort clearly deserves more - and done one day early! Bravo!

You're a great girl, Hattie! Well done and thank you for making a difference. X

What an inspiring young girl...More power to you. Really great.

Hattie, amazing achievement for a 7 year old ..... take a rest now.

Go Hattie. We've just come to live in Berkeley. We'll be looking out for you on your pony. Great cause and great effort.


Read more about Hattie's incredible fundraising mission and why she's a local hero.