Meet GWAAC's New Pilot
March 1, 2021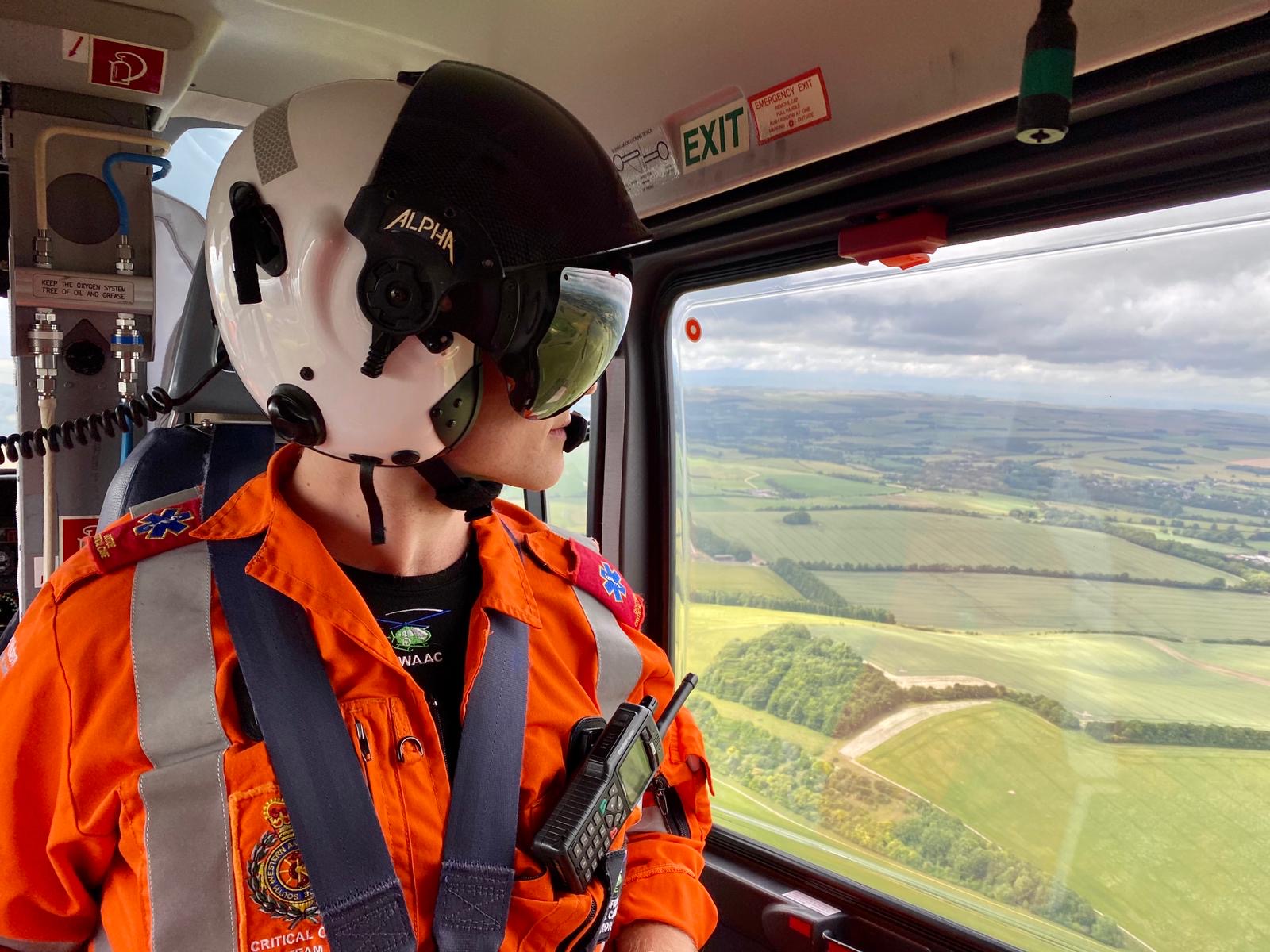 Keeping our crew safe in the air – the importance of helmets in aviation
March 31, 2021
Our crew treated their first COVID-19 patient in February 2020. Whilst lockdown didn't begin until the end of March, they were already battling the virus on the frontline alongside NHS colleagues.
It has been an emotionally, physically and mentally challenging year for healthcare workers. GWAAC's crew have put everything they have into fighting this virus, and ensuring that people in our region continue to have the critical care they need.
It wasn't just dealing with working on the frontline for one crew member, but with relocating and starting a new job in our critical care team as well. Trainee Specialist Paramedic, Fleur Mosley, has spoken about joining GWAAC during the height of the pandemic last year.
Fleur joined the charity in August 2020, moving to the South West from London, where she previously worked as the Lead Emergency Care Paramedic in a busy South London Emergency Department. She describes working in London during the beginning of the pandemic as "harrowing", but since moving away from friends and family, she has spoken about the importance of having a good support network.
GWAAC attend to the most critically ill and injured patients in the region, and the nature of our work means that the crew often have to deliver bad news on scene. With many healthcare professionals treating critically ill patients who are unable to have their friends or family with them this past year, the effects are all too real.
"By the nature of what we're exposed to daily, we give bad news quite regularly, and that was the same for me whilst working in my role in London too. To be doing that so often can be pretty tough, but I am very lucky to have an amazing support network of friends and family, a lot of whom also work in healthcare, so have lots of similar experiences" says Fleur.
Fleur is currently going through a two-year training programme to be signed off as a Specialist Paramedic in Critical Care, having gone through a rigorous selection and assessment process back in March 2020 to get the role.
During her training, Fleur has been paired with a mentor and supervisor to build her confidence and knowledge in her new role.
"The job and training can be pretty intense, and by the nature of the job, we all put a lot of pressure on ourselves to do better. Supervision and mentoring are there to make sure we are doing okay, being supported in the right way and to bring you out of your shell a bit more," says Fleur.
When asked what the biggest challenge has been during the past year, Fleur said:
"In London, I used to be able to come home and go for walks with my flatmates, which played a big role in how I got through that first wave of the pandemic. Moving down to the South West and not having a physical network has made the whole thing harder. I hadn't fully prepared for that."
"The lockdown has definitely made this experience much more overwhelming than it would have been otherwise. None of us could do any of the things we do without each other, having those conversations in person is part of decompressing. Being in human contact is really important- and wow do I miss a good hug!"
Despite a difficult year, Fleur is well on her way to being signed off as a Specialist Paramedic, having passed her first round of assessments, and is looking forward to her future with GWAAC.
"It's such an exciting opportunity. The team at GWAAC are something else, they really are amazing! I am so lucky to have such a great group of people to be training and developing with. To have it all backed by charitable donations is the cherry on the cake. We wouldn't be doing the jobs we're doing and getting the training we're getting without you, we're completely indebted to you all really."
If you would like to show your support for our crew who have remained right here and ready for those in urgent need over the past year, you can do so by donating online below.