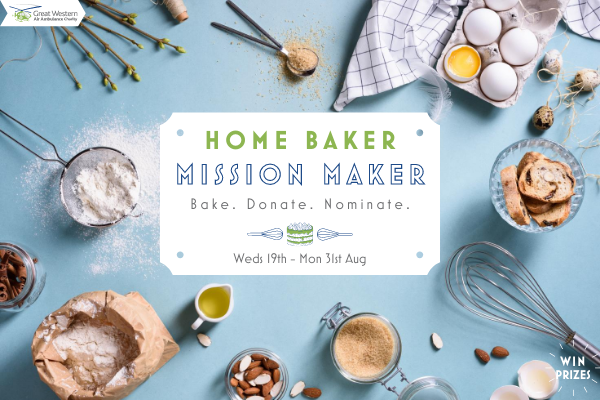 Home Baker; Mission Maker
August 18, 2020
What it takes to become a GWAAC Specialist Paramedic in Critical Care
September 2, 2020
Meet GWAAC's Newly Appointed Critical Care Doctors
All of our doctors are consultants in regional hospitals, and complete additional training in Pre-Hospital Emergency Medicine to become Critical Care Doctors. Having doctors on board means we can provide advanced medical interventions at the scene of an incident. Recently we have appointed Glyn and Tim who both have heaps of experience, and interesting journeys to becoming one of GWAAC's Critical Care Doctors.
Dr Glyn Thomas
Could you tell us about your medical experience/training and journey to becoming a Critical Care Doctor?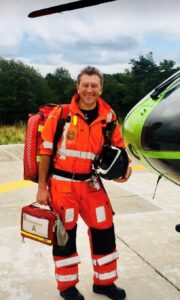 "I've wanted to be a doctor for as long as I can remember. I trained in medicine at University College London qualifying in 1997. My junior rotations were all in London and that's when I decided to become a heart specialist. I did a PhD in Cambridge, investigating the causes of abnormal and potentially lethal heart rhythm problems before finishing my training at St Bartholomew's Hospital. I came to Bristol as a Consultant in 2009 and fell in love with the South West!"
Why did you want to become a Critical Care Doctor for GWAAC?
"As a junior doctor, there was very little hope for those patients who suffered a cardiac arrest outside hospital. There are many reasons why this has changed but an important contribution is the concept of bringing the expert medical team directly to the patient as quickly as possible, either by helicopter or by road. I have witnessed some incredible saves. It also gives comfort to the friends and family of those patients who sadly don't survive, knowing that everything possible was done. I speak from personal experience here following the sudden death of my closest friend, Dr Harry Antoniades in 2018. I am so grateful for the care he received from the duty GWAAC crew and much of my ambition to join the team is in his memory."
In regards to your other job – could you give us a bit of an explanation about what you do there? Does your role there also tie into GWAAC?
"My day job as a heart specialist involves resuscitating, diagnosing and treating abnormal heart rhythms. I operate three days per week, implanting pacemakers, defibrillators and correcting faulty heart beats using 'key hole' surgery. 33% of the call outs we attended to in 2019 were cardiac arrests and so my day job skills are often put to good use. I have obviously had to undertake a lot of further training in anaesthesia, trauma and paediatrics which has been a challenge but very rewarding. Joining the GWAAC team is a career highlight, despite my fear of flying!"
Dr Tim Godfrey
Could you tell us about your medical experience/training and journey to becoming a Critical Care Doctor?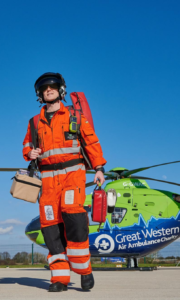 I graduated from medical school (University of Bristol) in 2009, I completed Foundation and Core Acute Stem training in the greater Bristol area before moving to the West Midlands to do my training in Paediatric Emergency Medicine. Whilst working in Redditch I met a Military Consultant who said something along the lines of "You'd be good at pre-hospital" and invited me to join the local BASICS scheme where I started my pre-hospital journey (about six years out of medical school). I tried it and loved it. Pre-hospital care combines some of my favourite parts of Emergency Medicine (clinical challenges, rapid decision making and tight knit team working) and distils it into a potent combination to do some good for the most critically ill or injured.
I moved back to work in Swindon in a University of Bristol post working on Medical Education through Simulation – a post split between education/research and clinical Emergency Medicine. On returning to the area I sought out the opportunities to get more hands on experience and education in pre-hospital care and met with a few of the clinicians with GWAAC who invited me along to Governance Days where I met the team and did a few observer shifts. During this time working in education/Emergency Medicine I became an instructor in the main life support courses (teaching doctors and other healthcare professionals) covering cardiac arrest in adults and children and major trauma (looking after the critically injured).
After finishing my University post there was an opportunity to apply for a Clinical Fellow post combining work with the Emergency Department (ED) at Bristol Royal Infirmary and with GWAAC… and I got the job! This was the first time I really joined the team.
During my first stint with GWAAC I developed my clinical interest in major trauma and my skill set grew and grew under the guidance of the Consultants and Specialist Paramedics. So I decided to complete a Masters degree in Trauma Science with Queen Mary University of London which further improved my expertise in Major Trauma and crystalized my goal – to be a Consultant in Emergency Medicine at a Major Trauma Centre and an Air Ambulance Doctor.
So I returned to Higher Training in Emergency Medicine – again in the greater Bristol area, finished my Masters and applied for sub-specialty training in Pre-Hospital Emergency Medicine (the newest specialty recognised by the General Medical Council). It took me two attempts to get on to the highly competitive national program (there are somewhere between 10-15 places per year) and I performed well enough during the interview and clinical simulation assessment to get my first choice post – GWAAC!
My final two years of training were spent split 50:50 working in the Emergency Department of Southmead Hospital, our local Major Trauma Centre, and with GWAAC. I had a second to none experience as a trainee with GWAAC with the opportunity to really make a difference to our local population with interventions such as emergency anaesthesia, road side surgery and through the use of blood transfusions at the point of wounding. As well as the on-the-job training I also got to attend a series of courses specific to pre-hospital care: such as a course on major incidents, obstetrics and the management of road traffic collisions. In March I was appointed as a consultant in the Emergency Department at Southmead Hospital, and then in July as a unit doctor with GWAAC!
Why did you want to become a Critical Care Doctor for GWAAC?
GWAAC is a great organisation, the people are great and the work is amazing. It is my local Air Ambulance Charity and a key part of the Trauma Network that I work in in my day job too. I'm constantly challenged by the job and as a busy service I genuinely look forward to going to work.
In regards to your other job – could you give us a bit of an explanation about what you do there? Does your role there also tie into GWAAC?
My 'other' job is as a Consultant in Emergency Medicine (A&E) at Southmead Hospital. This job involves seeing patients across the spectrum of emergency presentations from sprained ankles, through heart attacks and strokes to cardiac arrest and major trauma. I spend time leading the clinical team and providing supervision and oversight in running the department, there's a big role in supervising the team of junior doctors and non-medical practioners. In hospital there is much much more diagnostics than in the pre-hospital world and a much greater availability of investigations (like blood tests and scans) where with GWAAC we are limited to physical examination and point of care ultrasound.
Southmead is a Major Trauma Centre and my role as an Emergency Medicine Consultant sees me working as a Trauma Team Leader, the next step of care for critically injured patients looked after by GWAAC. I, along with the rest of the ED Consultants, lead a team of specialist doctors and nurses, providing consultant delivered care to injured people as they arrive. The next link in the chain of survival after pre-hospital care.
I'm so lucky to love both my jobs and the skills I have in each part compliment each other so well.
Meet the rest of the crew here