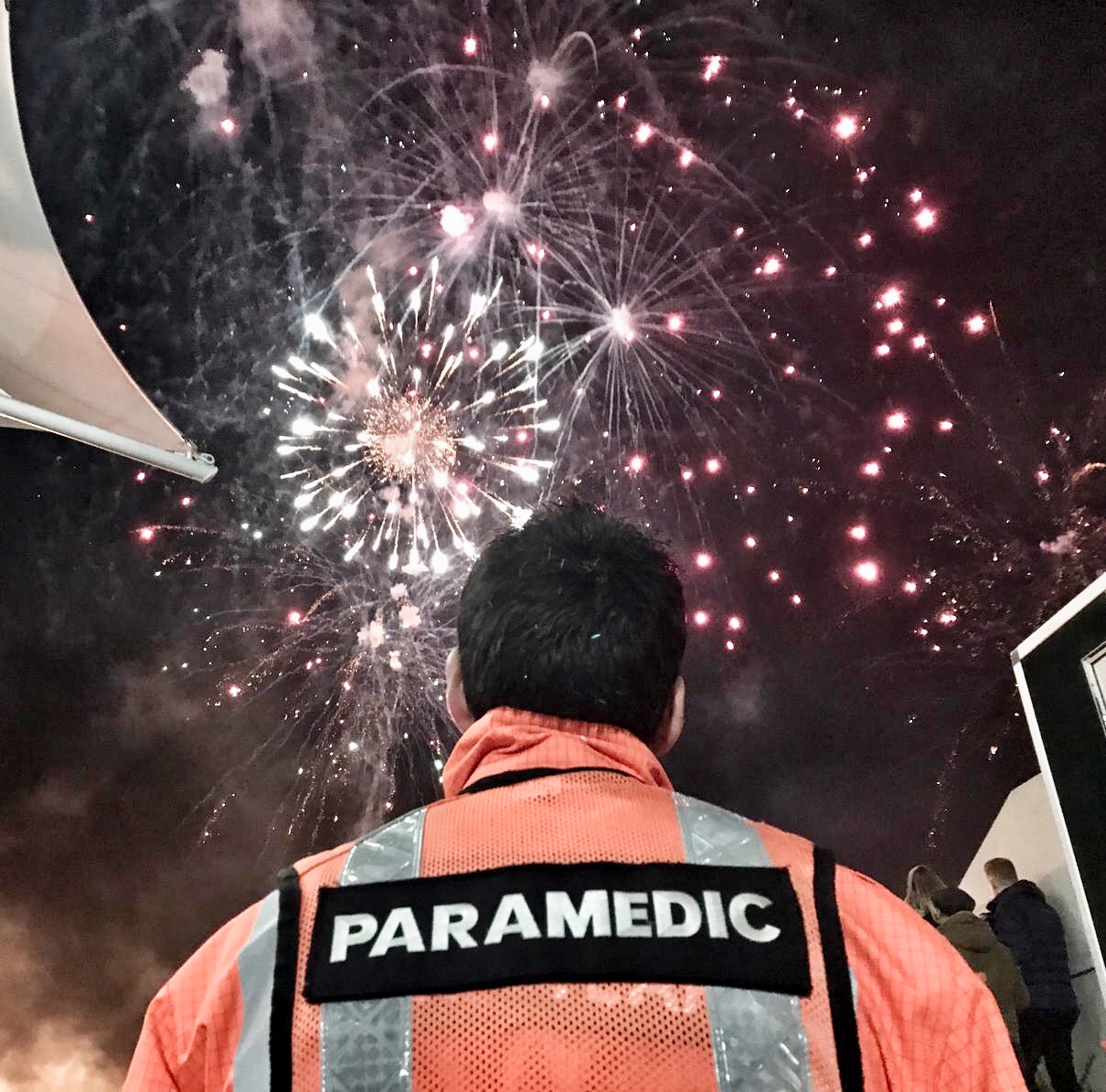 Charity fireworks display in aid of GWAAC!
October 8, 2019
GWAAC's Airbase
May 3, 2020
Here at Great Western Air Ambulance Charity (GWAAC), we are lucky enough to have lots of dedicated supporters taking on amazing running challenges every year for us.
In preparation for the Bath Half Marathon 2020 we asked one of our Critical Care Doctors and keen runner Andy Lockyer (pictured above), how he best prepares for his half marathons. 
Dr Andy Lockyer's Half Marathon Training Plan
My Background:
I have been a typically poorly disciplined, social and "slow & steady" runner for a while. I have completed a number of marathons and half-marathons (about half a dozen of each), and have had the usual share of training injuries, good runs and tough days. I have a background as a Physiotherapist and Doctor, but do not claim to be expert in long distance running training!! However, I'd like to give you some realistic and friendly advice in preparing for your amazing upcoming challenge.
You can find endless formalised training programs from different running clubs, but my main advice is to be realistic about yourself and how you personally will stick to a program. If you're good at forcing yourself to rigidly stick to a routine, then go for it, but I personally need to be realistic about how well I'm going to adhere to a specific training plan and set my training goals with this in mind, and not get distracted when I have to be flexible with my goals.
Golden Rules
1
You will lose 2 weeks training at some point:
You will almost definitely pick up a minor illness, get a little strain or just get distracted with life's other events at some stage. For this reason, I would always have a 10 week training program running over 12 weeks and accept that there are 2 "down weeks". Then you don't feel bad when it happens, you give yourself a chance to recover from setbacks (don't run when you're ill!!!). You'll then much more likely stay on track with your training.
You are basically going to need a few different length runs, so have a think about where you like running? Can you still go in the dark/rain? Is there a good circuit with an accurate length for multiple circuits? Is it hilly for getting fitter or flat for longer runs? I have certain routes I like for long and short runs, and day/night. If you have set routes, you don't allow yourself indecision, finishing too soon, or cancelling due to weather.
3
Don't obsess with times:
Your speeds and times will vary for huge number of factors – it's great if you're getting fitter but accept that variation
4
Use longer runs to practice your routine:
This is a good time to think about when you eat before running and what you take with you. Over an hour, you start needing some water and definitely some energy source to eat.
Keep running but you will gain minimal fitness at this stage. Just make sure your muscles are well rested, you're eating and drinking well and looking forward to the event!!
To keep it simple, I think of 3 types of run when training:
Regular run: This can be varied hills/flat and somewhere convenient. This is your base run to get out each week, this will normally be less than an hour. Don't overthink this run but just get out there.
Getting Fitter: This gets described in different ways, but try to do a run or other activity that pushes you in short bursts. This might be doing some sprints within your run, doing some steeper hill sections hard, or doing a shorter faster run. This should get you out of breath and is about improving your fitness for your longer runs
The "Long run": This is your weekly run that sets you on course for your end challenge and helps you build confidence towards your event. It's great if you manage to maintain your target pace at each increasing distance, but just get it done. I choose a nice predictable flat course for this like a river towpath with no traffic, so you can just get in a rhythm and keep going.
10 week training program for 12 week period up to race: 
Week 1

Basic Run: 30 mins Fitness Activity: 20 mins Long Run: 3 miles

Week 2

Basic Run: 30 mins Fitness Activity: 20 mins Long Run: 4 miles

Week 3

Basic Run: 30 mins Fitness Activity: 30 mins Long Run: 5 miles

Week 4

Basic Run: 30 mins Fitness Activity: 30 mins Long Run: 6 miles

Week 5

Basic Run: 30 mins Fitness Activity: 30 mins Long Run: 7 miles

Week 6

Basic Run: 40 mins Fitness Activity: 40 mins Long Run: 8 miles

Week 7

Basic Run: 40 mins Fitness Activity: 40 mins Long Run: 9 miles

Week 8

Basic Run: 40 mins Fitness Activity: 40 mins Long Run: 10 miles

Week 9

Basic Run: 30 mins Fitness Activity: 40 mins Long Run: REST

Week 10

Basic Run: 30 mins Fitness Activity: Short slow run Long Run: EVENT
Bath is busy on the morning of the BathHalf, wear warm clothing over your running kit and leave plenty of time to slowly move with the crowds into the main Half marathon area to drop off your bags.
Don't suddenly change your routine eating & drinking a lot before the race, just stick to what you've been doing
If you get cold easily, take an old jumper you can happily throw away, so you can wear it until the start. You'll need to hand in your bag approx. 30 mins before you physically start running. These items can normally then be donated to charity.
The Bath course is a little narrow over the first few miles with some pinch points. So if you're looking for a set time, be ambitious with your start position as it'll be easier to drop back slightly than make your way through a crowded field
Arrange something nice for when you finish so you can enjoy the moment. It's sometimes easier to book somewhere in Bath for a drink and food, than joining the busy trains immediately after the race!!