The Great Western Heartstarters team returned to Severn Vale School this week to teach valuable lifesaving skills to more than 70 of their year tens. Ahead of Saturday's international 'Restart a Heart Day' our team of medical volunteers were on hand to give CPR and defibrillator training to an enthusiastic group of 14 and 15 year olds.
Great Western Heartstarters is a training initiative launched by the air ambulance charity aimed at teaching all school pupils across our region early lifesaving interventions, and on Saturday 16th October celebrates five years since the programme launched on Restart a Heart Day in 2016.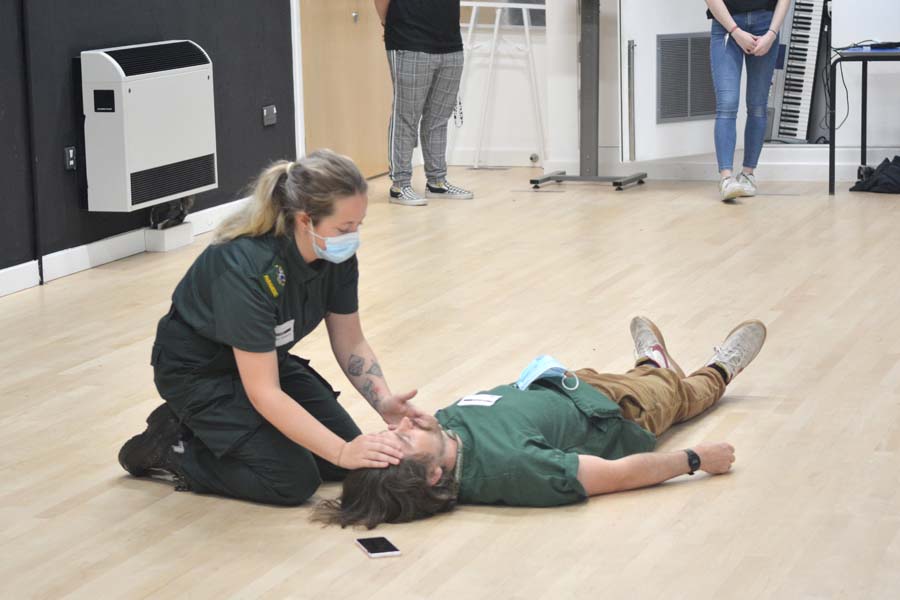 Since its launch, Great Western Heartstarters (GWHS) has trained over 5,000 school children these lifesaving skills, with an aim to train another 2,000 in 2022.
In the first nine months of 2021 the Great Western Air Ambulance Charity were called out to Gloucestershire and South Gloucestershire 607 times, making 41% of our overall jobs. Around a third of the missions our Critical Care Team attend are cardiac arrests – where someone's heart and breathing have stopped. In a situation where someone's life is in danger, every minute counts. Our crew can be anywhere within our region within 20 minutes, but the care the patient receives before we get there can play a vital role in their survival.
The Heartstarters sessions are delivered by a range of healthcare professionals, including doctors, paramedics, nurses and healthcare students who volunteer to deliver the training in secondary schools and youth groups across the region.
The sessions involve a demonstration of DRS-ABC methods – Danger, Response, Shout, Airway, Breathing, and CPR. The students are then split into smaller groups for a practical session, where they each practice the recovery position, DRS-ABC and how to use an AED.
Part of the training is to encourage participants to do what they can to help. Bystander intervention can double a cardiac arrest victim's chances of survival. Even by just calling 999 a bystander can receive guidance from the call handler which can save lives.
GWHS is always in need of volunteers with basic life support training to help run school sessions in Bristol, South Gloucestershire and Gloucestershire. If you have a medical background and would like to find out more about volunteering with Great Western Heartstarters, email Claire.harmer@gwaac.com