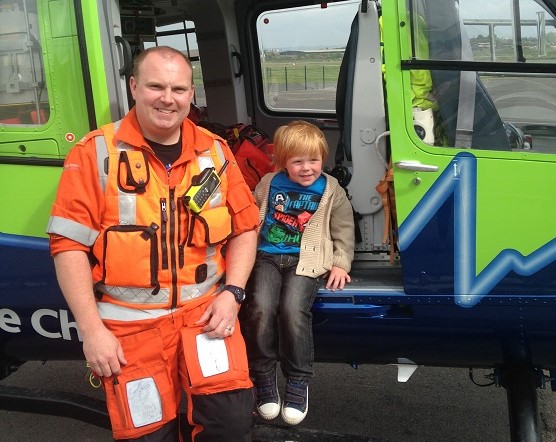 Alfie's story
February 14, 2019
Jamie's Story
February 14, 2019
Imagine passing out 100ft up in the air whilst paragliding above a busy road. It is something those who participate in the sport don't want to think could happen, but for Gary Daw, this scary scenario became a frightening reality.
A keen paraglider, Gary had taken part in the sport many times. The adrenaline was pumping during his flight off of Selsey Common and he was about 100 feet up admiring the views.
But this is the last thing Gary remembers before he blacked out, plummeting to the ground below.
Gary landed unconscious in a field, and bystanders rushed to his aid. It was very apparent that he needed urgent medical care, and so GWAAC were called.
Our Specialist Paramedics and Critical Care Doctor arrived within minutes and treated Gary at the scene, sedating him to stabalise his condition before airlifting him to hospital.
When he arrived he was given a CT scan, which showed that he had a bleed on the brain. Gary was operated on that evening.
He has since made a full recovery, and has not been put off the sport he loves.
He has, however, a lot of gratitude to the air ambulance crew who saved his life, and is keen to raise awareness of the vital work they do.
Gary said: "I was 100 feet above the road when I felt everything closing in on me and I passed out. I came to in the bottom field and there were people around me, one of which was a doctor. It was changed to the air ambulance after I told him I had passed out in the air."