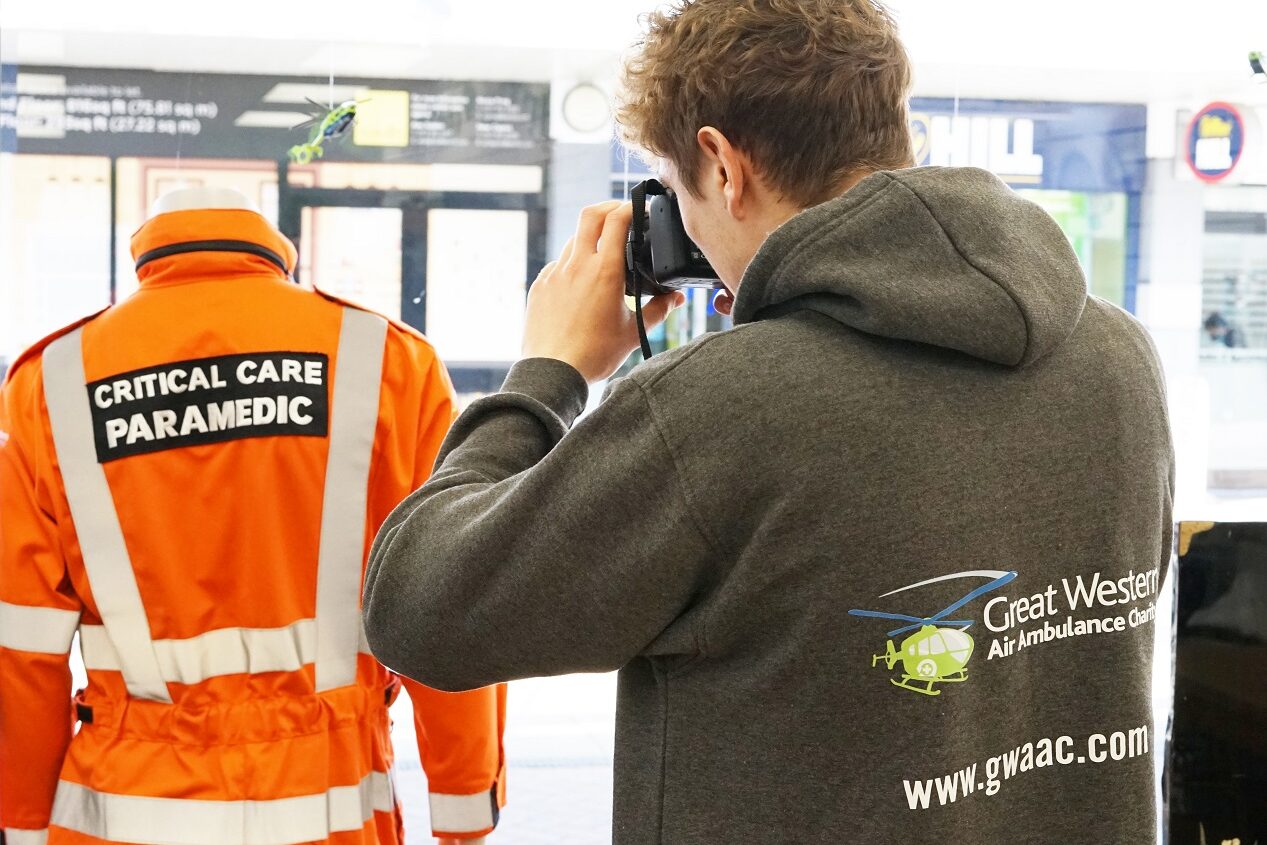 GWAAC's young kickstarts
March 23, 2022
Robin's story — The crew's perspective
March 26, 2022
On 14 February 2019, Sarah Jaques was hoping to spend her Valentine's evening with husband Robin, along with flowers, chocolates, and a nice meal. Little did she know that she would in fact spend the evening by Robin's bedside in Southmead's Intensive Care Unit.
The day started as normal, with a hair appointment lined up for Sarah and a day's mountain biking for Robin and his friend Mark in the Forest of Dean.
While having her hair done, Sarah missed a call but because there was no caller ID she ignored it. Immediately after the hair appointment, Sarah noticed that she had received a voicemail. She listened to the message which turned out to be from Mark.  
Mark was incredibly calm on the phone. He told Sarah that Robin had crashed into a tree on his bike and that he was badly injured. He explained that Robin was being treated by Great Western Air Ambulance Charity's (GWAAC) Critical Care Team.
Mark then passed the phone to Specialist Paramedic in Critical Care (SPCC), Pete Sadler. Pete provided more information about the injuries Robin had sustained. And he went on to tell Sarah that Robin was being airlifted to Southmead Hospital in Bristol.
"It was the calmness of these two men that made me think everything was under control."
Robin had broken four of his ribs on impact and suffered a punctured lung and a burst femoral artery. This caused lots of internal bleeding and put him in a critical state.
Sarah entered practical mode. She realised her daughters, Lauren and Yasmin, would need food when they got home from school and the cupboards were bare. This meant a quick trip to the supermarket. Sarah wasn't sure how long she would be at Southmead Hospital so she prepared for the worst and got plenty of supplies.
When she got home, she quickly packed Robin a hospital bag and wrote a brief note to the girls. Sarah said, "It was my way of dealing with it. I had to rationalise and work through a list of what needed doing."
Thanks to the comforting and calming phone call, Sarah drove from Clevedon to Southmead without panicking, whilst our crew simultaneously conveyed Robin in the helicopter. When she arrived at Southmead, a nurse took her to the Relatives Room and suddenly the severity of Robin's accident sank in.
A feeling of being overwhelmed
"It wasn't until I got to the hospital and a nurse grabbed me from reception and took me into the Relatives Room that I felt a bit overwhelmed. I realised it was serious. Especially when the nurse said I could use the telephone to call people. I had a few tears."
When Sarah eventually saw Robin, he was in a very bad way. He was on heavy painkillers and had a "big tube" in his ribs. But thanks to the work of our crew on scene, Robin had arrived at Southmead in a stabilised condition which meant the doctors were able to operate straight away.
Sarah said, "I didn't know if everything was going to be ok. But I knew he was being constantly monitored and had great nurses."
Robin remained in intensive care for a few days and Sarah took the girls to see Robin every evening after school. They all found it tough, especially 11-year-old Yasmin. Robin continued his six-week recovery at home with his family rallying around him.
Ongoing support
In May 2019 Robin and Sarah visited the GWAAC airbase and talked to the crew about Robin's accident. This was hard for Sarah as it brought up a lot of emotion but it provided them with an opportunity to learn more about what happened that day.
Sarah says she is "incredibly thankful for GWAAC's help". Not just for the help provided on scene, but also for the way in which our crew helped her deal with the magnitude of what happened; they were the calming voice on the end of the phone that day, and they welcomed her to the airbase with open arms.
Robin has fully recovered since his accident and has since made close ties with GWAAC. He volunteers his time as both a speaker and a trustee for the charity, of which Sarah is very supportive. And on Valentine's Day 2020, Robin marked the anniversary of his accident by presenting GWAAC with a generous donation.
When speaking at events on behalf of GWAAC, Robin is open about how the accident caused more than just physical pain for himself. He explains how the accident impacted his family, and how his daughter even tried to hide his cycling shoes at the end of the garden.
The power of sharing stories
Here at GWAAC, we do all we can to support patients and their families. This extends far beyond the critical care they received at the scene. We can provide opportunities for former patients to visit the base, meet the crew, and even share their stories. Our door is always open to helping former patients understand, and come to terms with, what happened that day.
If you're a former patient, sharing your story is a way to help others understand they're not alone and that a lasting impact is common and normal. If you would like to share your story, please do get in touch.