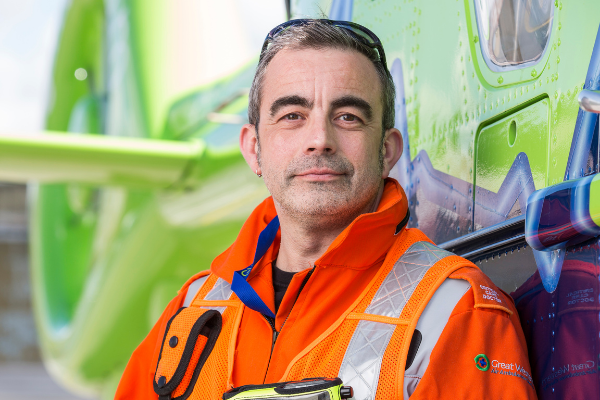 GWAAC's Critical Care Doctor awarded MBE in New Year Honours 2021!
December 30, 2020
How to set up a Just Giving page for GWAAC
January 28, 2021
Our Critical Care Team were called to around five patients a day on average across 2020, despite the COVID-19 pandemic causing national lockdowns and restrictions throughout much of the year.
The crew were called to 1,726 patients in urgent need across Bristol, Bath and North East Somerset, North Somerset, Gloucestershire, South Gloucestershire, and surrounding areas. Fifty-five percent of call-outs were trauma-related, including over 300 road traffic collisions. However, the most common incident was people suffering life-threatening cardiac arrests – they responded to over 500 patients experiencing this medical emergency.
Our team consists of Critical Care Doctors and Specialist Paramedics who bring the skills and expertise of a hospital emergency department to critically ill or injured patients where their skills can make the difference between life and death. From giving roadside blood transfusions, to performing emergency surgery on scene, the crew are specially trained in pre-hospital emergency care.
Despite the pandemic, they remained ready to respond throughout 2020, taking extra precautions and donning PPE in order to continue providing their vital service. They stepped up to support their NHS colleagues on the frontline during the first lockdown in April and May, assisting with intensive care inter-hospital transfers, which saw them assist another 34 critically ill patients, in order to help relieve the pressure on local healthcare services.
Despite this continued demand for the local lifesaving service, a recent survey showed that 40% of people living in GWAAC's region do not know that the service is charity-run, with only 1 in 10 people recalling it as a charity. The majority of people think that the air ambulance is either fully or partially funded by the NHS and government. In fact, GWAAC receives no day-to-day funding from either the NHS or the Government, and relies on charitable donations to raise over £4 million a year to remain operational and continue saving local lives.
COVID-19 has put a stop to many of the charity's usual fundraising activities, with events and face-to-face meetings still unable to go ahead as they usually would. 2020 was a difficult year for the charity and its crew, and with the pandemic still ongoing ten months later, 2021 looks to be even more challenging with the charity seeking out other ways of reaching its fundraising needs.
CEO, Anna Perry, said: "GWAAC's Critical Care Team have been there throughout the pandemic, right on the frontline, doing whatever is needed to protect and care for the public. We all rely on them to be there for us, but as we go into another difficult year, we ask whether you will be there for them. Our charity relies on donations from people living in this region, so if you can donate yourself, recommend us for an award or a grant or leave us a gift in your will, please do not delay – we need your support this year more than ever."
To see more about our missions in 2020, click below.
Have you been supported by the crew of Great Western Air ambulance Charity? They would love to hear from anyone who they responded to in 2020 (or earlier). Email pr@gwaac.com to share your experience.