Give life, with a gift in your will
Thank you for wanting to find out how to include a gift in your will to Great Western Air Ambulance Charity, and the wonderful impact you will be making.
Delivering more innovative critical care
"Though we've come a long way, in critical care nothing stands still. A gift in your will could help us research, develop and deliver more innovative and effective techniques, meaning even more people survive and recover to live life to the full. Thank you."
Professor Jonathan Benger CBE, Founding Clinical Director, Trustee, and Critical Care Doctor 
Because Great Western Air Ambulance Charity is at the forefront of advances in critical care, a gift in your will could help us do so much more. People choose to include GWAAC in their will for all sorts of reasons. It may be because our critical care service has touched their life or the life of someone they love, or simply to pass on the comforting feeling of knowing that GWAAC will always be there.
Make your will for free
To make it easy for you to make or update your will, we are offering a simple will at no cost to you. Through our will-making partners Guardian Angel and the National Free Wills Network, you can choose to make your will online, by phone, video appointment, or in person.
Most people who use our free will-making services decide to include a gift to Great Western Air Ambulance Charity, although you are not obliged to do so. How much you give is up to you. It could be a share of your estate or a fixed amount. Whatever you can give will help us develop new cutting edge techniques, giving more people the chance not just to survive but to recover to live life to the full. And by directing your gift to our general charitable purposes, when the time comes it will be used where it's needed most. However, If there is a specific aspect of our work that you would like to support through your will, our Supporter Engagement Team would very much welcome the opportunity to discuss this with you (please see contact details below).  
Make your will for free with Guardian Angel
With Guardian Angel, you can create a simple will online, by telephone or in person. Online you will answer a series of questions, with live chat and phone support on hand. Once you've completed all the details, the will is checked by a legal specialist and sent to you to print, together with instructions on how to sign it and have it witnessed. For a telephone or in person appointment, call Guardian Angel Freephone on 0800 773 4014, mentioning Great Western Air Ambulance Charity to claim your free will.
Make your will for free with National Free Wills Network
With National Free Wills Network, you can have a simple will written by a local solicitor. You will receive a pack giving details of local participating solicitors, for you to contact to make an appointment. Your will is written according to your instructions, and once you complete a confidential declaration form we pay for your simple will at a discounted rate. Many of our supporters who use the National Free Wills Network choose to leave a gift to us, though there is no obligation to do so.
Read about the impact of your gift
To show you the impact your gift in your will to GWAAC could have, we've produced a short booklet Give Life, with a gift in your will.  Read about your charity's journey from humble beginnings and how your gift could help save many more lives. You can download it or order your copy through the post.
Another way to give through a will
We are also very grateful to those who over the years have decided to transfer to GWAAC some or all of the funds they were about to receive through an inheritance. Changing a will after someone's death requires a Deed of Variation, which must be signed within two years of the date of death and have the agreement of all the executors and beneficiaries. Giving to charity in this way can also help reduce the amount of inheritance tax due on an estate. Consulting a legal professional is always recommended.
Why our supporters leave a gift in their will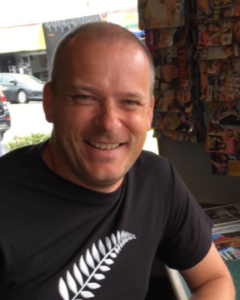 "GWAAC was my employer's chosen charity. Meeting the crew at the base inspired me to start fundraising, then I signed up to the lottery and to volunteer. When updating my will it seemed natural to include GWAAC, for which I have such respect. When I told the fundraising team, they were immensely grateful. Using Guardian Angel to write my will online was so straightforward. I know my gift will help develop innovations in critical care. I'm proud GWAAC's in my will and encourage you to do the same."
Nick Wilson
"My mum loved GWAAC and she'd requested that half of her funeral collection went to the charity. Shortly after that time I saw GWAAC was looking for volunteers for the Bristol Balloon Fiesta. I signed up and haven't looked back! Over the years I've seen big changes…the old base was freezing cold in the winter, with no kitchen or proper facilities, but the new one is fantastic! With GWAAC in my will I can pay tribute to my mum, pass on my trust in the charity, and give life to those in need of critical care."
Janet Adams
Get in touch
We'd love to discuss how your gift can help transform our Critical Care Team's work.
Contact us at info@gwaac.com or call 0303 4444 999 for further information.