What is the London to Paris?
Take on the ultimate cycling challenge by cycling from London to Paris! There is no better destination to end a bike ride than under the Eiffel Tower and then celebrate with some delicious food and a hot shower!
We work closely with Global Adventure Challenges who run adventure challenges including the London to Paris bike ride. Click the link to go to their website for further details on dates, itinerary and availability.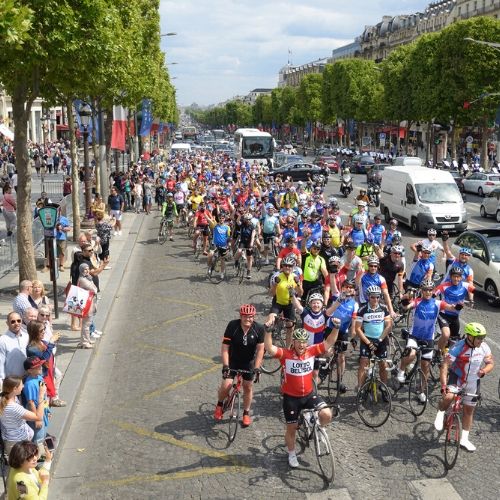 Or email our event manager Charlie:
Fees and Fundraising
When booking with Global Adventure Challenges there are two funding options available – Self Funded or Minimum Sponsorship:
Self-Funded:
Registration fee £125 + full cost of trip £895
Book and pay the registration fee to secure your place. You will then cover the remaining challenge fees yourself, there is no cost to GWAAC. Set your own fundraising target and raise as much as you can for GWAAC!
Minimum Sponsorship:
Registration fee £125 + fundraising target £1790
Book and pay the registration fee to secure your place. Pledge to raise the set minimum amount (£1790). GWAAC will cover the remaining costs of the challenge, knowing that your fundraising will bring in significantly more money than we are spending.
Our charity team are here to help you understand the timeline and give you all the support you need to reach your fundraising targets. Talk to our Events Manager Charlie if you have questions or want to talk through both options – 0303 4444 999
Sample Itinerary
Day 1
Registration for challenge early morning in Croydon and start cycling at 7am through Kent to Dover. Ferry to Calais. Distance – 86 miles
Day 2
Cycle from Calais to Arras through charming villages and along quiet country lanes. Distance – 82 miles
Day 3
Cycle from Arras to Compiègne passing numerous WWI memorials and monuments through the Region of the Somme. Distance – 76 miles
Day 4
Cycle to Paris, along the Champs-Élysées, round the Arc de Triomphe and finish overlooking the Eiffel Tower from the Champ de Mars. Celebratory meal. Distance – 67 miles
Day 5
Free morning in Paris, before catching the Eurostar to London where you are re-united with your bicycle. If you're on our Tour de France finale date, you'll spend the day watching the greats cycle into Paris before making your own way to Gare du Nord to catch the evening Eurostar to London where you are re-united with your bicycle. Please note, this is a complex itinerary and subject to change.