Meet Pilot Rich MacLaughlin
August 30, 2023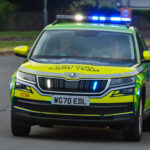 GWAAC shortlisted for prestigious air ambulance awards
September 19, 2023
At 07:00 on Friday 8 September Saltford Seniors Captain, Karl Davies, teed off before all other golfers at Saltford Golf Club. Karl wanted to make sure no other players were in front of him as he was playing a round of speedgolf as a fundraising exercise in support of Great Western Air Ambulance Charity (GWAAC). 
Speedgolf is a fun, faster, fitness-oriented alternative to the traditional game of golf combining two of the most popular participation sports, running and golf. The challenge is balancing your running pace with your ability to quickly and accurately play your shots to get the lowest score possible. You don't necessarily have to RUN! The aim is to achieve the lowest possible sum of shots combined with the time taken to play your round. This combined total gives you a Speedgolf Score. For example, shooting a round of 93 in a time of 1 hour 22 minutes and 25 seconds would give you a Speedgolf score of 175:25. 
At the start of Karl's tenure as Seniors Captain he had planned to support their charity of the year, GWAAC, by running the Bath Half in addition to their normal charity lunch and Seniors Open competition. Unfortunately, he was hospitalised earlier in the year making running a half marathon unrealistic. He decided that he wanted to do something else that was golf related instead. The idea of speedgolf developed in part due to comments about seniors always taking significant amounts of time to play a round of golf and also to help give him an incentive to gradually return to his previous fitness levels. To make the whole event a bit of fun Karl asked people sponsoring him to predict his speedgolf score, charging £5 per prediction with half going directly to GWAAC and half going into a prize fund for the closest predictions. Predictions received varied from 145:00 to 325:00. 
On the day Karl shot a score of 96 completing his round in 1 hour 10 minutes and 40 seconds giving a speedgolf score of 166:40. Given that it was his first attempt at speedgolf this exceeded his wildest expectations. A number of the prize winners handed back all or part of their winnings back to charity resulting in a total of £730 being raised for GWAAC.