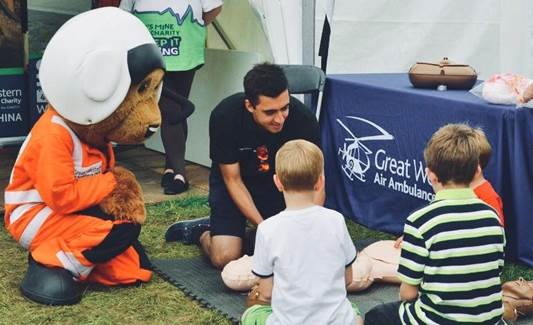 Creating a generation of lifesavers
October 16, 2018
Firework safety tips from GWAAC
October 30, 2018
We are excited to announce that we won two awards at the Bristol and Bath Health and Care Awards 2018 – Voluntary and Community Sector Team of the Year and Health Care Team of the Year!
This award ceremony is dedicated to recognising the achievements of the health care services provided in Bristol and Bath, and everyone at the charity is thrilled and proud to have been recognised for the work that we do.
The Voluntary and Community Sector Team of the Year Award celebrates the important work that third sector and community teams do in health and care. We won this award for our Great Western Heart Starters (GWHS) programme, a training initiative targeting school pupils in years 8-10 in order to equip them with the skills they need to confidently deliver CPR. Research has shown that following a cardiac arrest, people who receive CPR from a before paramedics arrive are more likely to make a recovery. The moments before we arrive on scene are crucial.
GWAAC Project Lead for GWHS, Dr Johannes Von Vopelius Feldt, said: "Winning this award is an amazing achievement for our volunteers. It will help GWHS teach lifesaving skills to even more school children in the Bristol and Bath area and increase knowledge about the importance of bystander CPR for cardiac arrest.
"Our volunteers are health care providers or health care students from different backgrounds and their knowledge, enthusiasm and dedication sets GWHS apart. I am honoured to receive this award on behalf of such an amazing team."
Our second award was for Health Care Team of the Year. This prestigious award celebrates the best team work within the health care sector.
Critical Care Doctor Matt Thomas, GWAAC Education Lead and previously our Lead Doctor for 5 years, said: "I am so proud of GWAAC winning this award. It is truly a team effort that goes into the service providing the best possible pre-hospital Critical Care for the people of Bath and Bristol. The paramedic, doctor and pilot work as a team but we are also part of a greater team made up of all the charity volunteers and staff, the outstanding ambulance staff we work with every day alongside the other emergency services. The people of our wonderful, diverse area who donate to the charity allow us to do what we do.
"It was a huge honour to accept the award but I feel honoured every day to work as part of this outstanding team."
GWAAC CEO, Anna Perry, said: "Thank you so much to our crew, staff and volunteers who have worked tirelessly to make this possible. I'm so pleased for all of our crew at GWAAC. This award reflects their fantastic teamwork, with the combination of Specialist Paramedics and Critical Care Doctors creating value that is more than the sum of their parts. I'm so proud of our team."
 It really has brightened up our week to receive these awards. Thank you to everyone who has helped and continues to help our charity in many different ways. These awards are for you too!