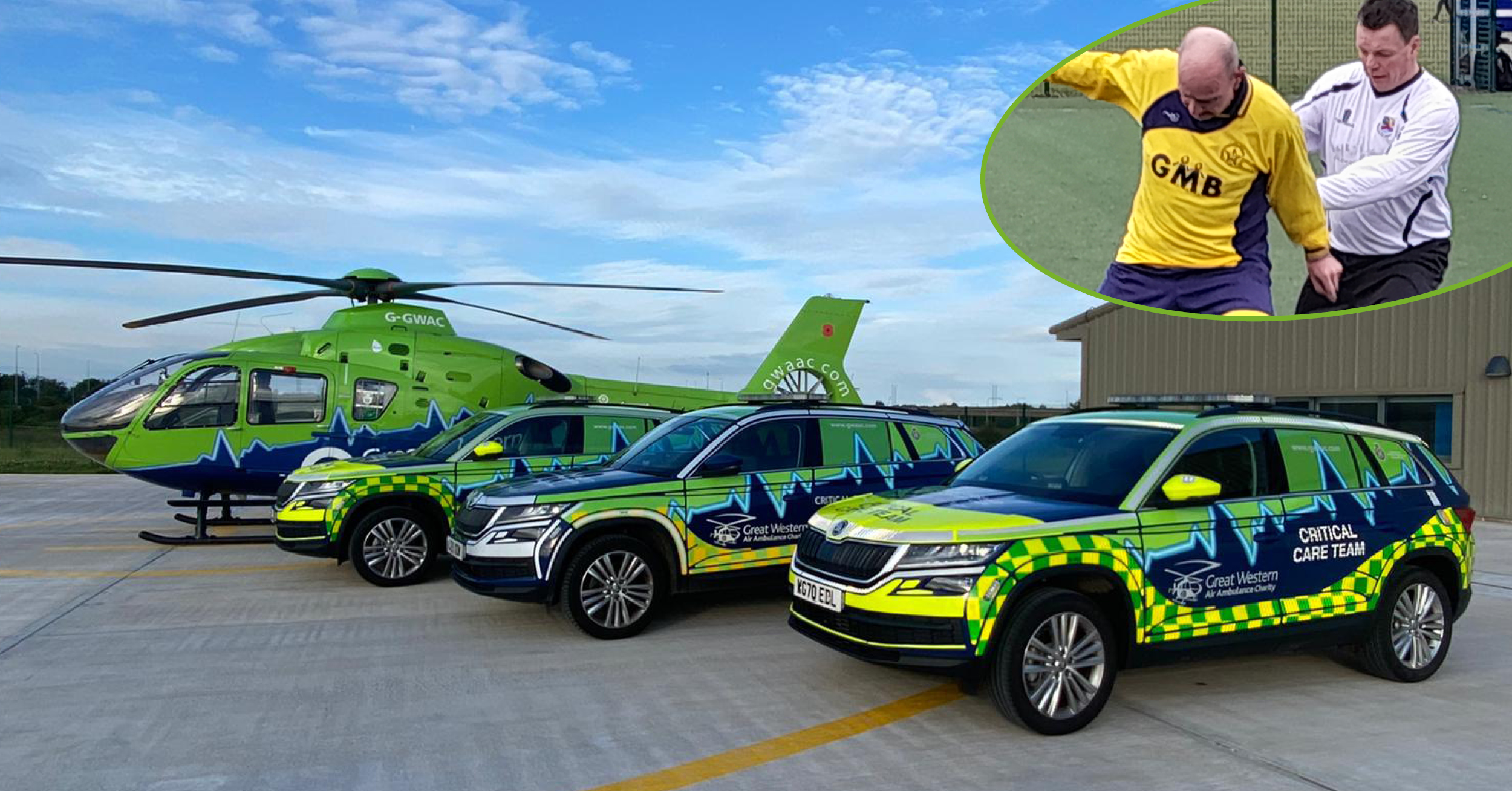 Keith's Story
June 6, 2023
Ultrasound Training
June 23, 2023
At the end of 2020, we began a complete review of how our crew packs and carries its growing list of specialist equipment. It took two years to develop the kit bag system, find funding, and get the bags into mainstream use by the entire crew.
We developed a bespoke kit bag system containing a series of pouches with everything required for a task in one place. This modular approach makes it easy to use and saves time both on scene and during replenishment, ultimately improving the way we care for our patients.
Read on to learn why we needed an overhaul, how we did it, what is different about the new bags, and what they mean to us at Great Western Air Ambulance Charity (GWAAC).
About our Kit bags and why they needed an overhaul
From serious head injuries to cardiac arrests to road traffic collisions, our kit bags come with us to every patient we attend, and we get called to an average of five people in need of urgent critical care every single day, some days it's many more.
The bags enable our skilled Critical Care Team to take equipment found in a hospital emergency department to the patient's side, giving them their best chance of survival.
Continual development and improvement of our service requires us to carry more and more equipment and out of necessity, our bags were packed according to what fitted where, rather than in an intuitive and structured way. This made carrying everything awkward and created inefficiency. The Critical Care Team was finding they'd have to open multiple pouches in multiple bags to perform each of the many complex and time-critical tasks that our patients need.
Our second-generation kit bags had been in service since 2014; they had evolved rather than been designed for our needs and they were becoming inefficient. With speed of care and patient safety at the forefront of everybody's minds, it was decided that we needed to replace them.
"We wanted to streamline processes. There are hundreds of steps to take from arriving on scene to giving a patient treatment and getting them into an ambulance. With an overhaul of the bags, we hoped that by knocking a few seconds off each step, this would add up to meaningful minutes overall."
Dr Matt, Critical Care Doctor, Great Western Air Ambulance Charity
Starting from scratch!
The project was spearheaded by Advanced Clinical Practitioner in Critical Care (ACP-CC), Vicki, and Critical Care Doctor, Dr Matt. It was a big and complex task, but the duo made a great team. Dr Matt said, "I'm all about the concept and Vicki is all about actually being able to carry it."
Vicki and Matt began by writing a list of all the things the Critical Care Team needed to do at the scene of an incident. They divided them into tasks and put all the things needed for each task into a pouch. These pouches were then allocated to larger bags in a logical and intuitive way. Vicki said, "But this was by no means a two-person project; we gathered feedback from the whole crew as they went along, making sure everyone had an opportunity to input about the design of the new bags."
The collaboration extended to Roger Norris from PAX, our chosen bag manufacturer, for their bespoke service. Roger helped us develop GWAAC's third-generation kit bags through a series of meetings and by offering helpful suggestions based on his experience of how other air ambulance services use their kit bags.
The result is a lean and effective system that is easy to use, reducing the time to treatment, and improving the way we care for our patients.
Made possible thanks to the HELP Appeal
The development of a new kit bag system is not without a cost of course. And it's only thanks to our funders that it was possible at all.
We are hugely grateful to The County Air Ambulance Trust HELP Appeal for providing the majority of the funding, £20,000 out of £25,000 that was needed, for the manufacture of our new bags.
£25,000 is a lot of money but we needed five sets of bags — one for each of our three critical care cars, one for the helicopter, and one for training purposes. This equates to 38 different bags in total and over 160 pouches. And remember, our bags needed to be tailor-made for the needs of our crew as well as being resilient, waterproof, high viz, and adaptable.
During a recent visit to the airbase, Robert Bertram, CEO, and Michael Henriques, Chair of Trustees, from The County Air Ambulance Trust HELP Appeal, expressed how pleased they were to be able to help with our new kit bags:
"We are pleased to have been able to fund these new kit bags for the Great Western Air Ambulance Charity crew. The HELP Appeal is focused on saving lives, and the innovative design of these new bags will help GWAAC's crew deliver the best care to critically ill patients."
Robert Bertram, Chief Executive, HELP Appeal
A look inside GWAAC's new bespoke kit bags
The result of the two-year project is a lean and effective kit bag system that is easy to use, speeds up treatment, and improves how quickly we can replenish our bags after a mission and be ready for the next. "And if necessary", says Dr Matt, "We can grab the spare set and move the repacks to a quieter time."
The new system includes features which significantly improve the way we care for our patients:
A modular system with equipment organised by task and the likely order of necessity
An intuitive layout
Designed to be used by a team of two
Self-sufficient – all equipment needed can be carried to the patient
Pouch system makes re-stocking and turnaround between missions faster
A mixture of bespoke and off-the-shelf bags to meet our requirements
Consistent branded external appearance with functional labelling and colour-coding
Repair service for wear and tear or damage
ACP-CC Vicki explains: "Bags one and two and the monitor are always taken to the scene of a critically ill or injured patient. Then, depending on the information the crew has about the patient, we will decide if any other bags are required. We may therefore grab the Blood, Lucas, or Neonatal bags."
Bag one (blue)
Designed for when we're the first person on scene. It provides all the essential kit for immediate care and gives us everything we need for the first minutes with a patient.
Bag two (green)
This bag contains additional follow-on critical care equipment.
Neonatal bag (yellow)
This bag brings together all the equipment that is required to resuscitate a newborn baby. It also contains a maternity pack for the mother.
Blood bag (red)
A bag that contains all the equipment required for a blood transfusion.
Ventilator bag and LUCAS CPR device bag (blue)
These bags provide protection of the specialist devices and allow easy carriage to the patient. The ventilator bag also carries equipment for onward transfer.
Pouches
The pouches include kit for specific tasks such as managing airways and carrying out surgical procedures. All pouches are designed to present the kit in a logical and ordered way with colour-coded handles to match the bags they belong to. Inside the bags, there are retaining flaps and straps to stop the pouches falling out when the bag is opened.
What our new bags mean to us
Having come to the end of the two-year project, it's now our job to make sure that these vital assets serve us and our patients well into the future.
During the design process, we certainly tried to ensure this would be the case. For example, we made sure they would be no heavier than necessary. We did things such as strip-out some standard design features like magnets to lighten the load.
When the first set of bags arrived, the crew began to familiarise themselves with the new modular system; it wasn't as simple as swapping out the old for the new. The Specialist Paramedics, Advanced Clinical Practitioners, and Critical Care Doctors had to become familiar with the training set first.
On 8 April 2023 the bags went into use on board our helicopter and in our critical care cars. And we're pleased to report that they are already making a real difference to our efficiency at the scene of an incident and restocking in between jobs.
"The new bags are speeding up processes especially setting up kit for pre-hospital emergency anaesthesia (PHEA); they are helping to improve the care we provide to people in our communities in urgent need of our help."
Vicki Brown, Advanced Clinical Practitioner in Critical Care, Great Western Air Ambulance Charity
In six months' time, Vicki and Matt plan to review the new kit bags to ensure that the kit is functional and to make any necessary adjustments.
"The new bags are speeding up processes especially setting up kit for pre-hospital emergency anaesthesia (PHEA); they are helping to improve the care we provide to people in our communities in urgent need of our help."