GWAAC launches partnership with Girlguides
May 20, 2019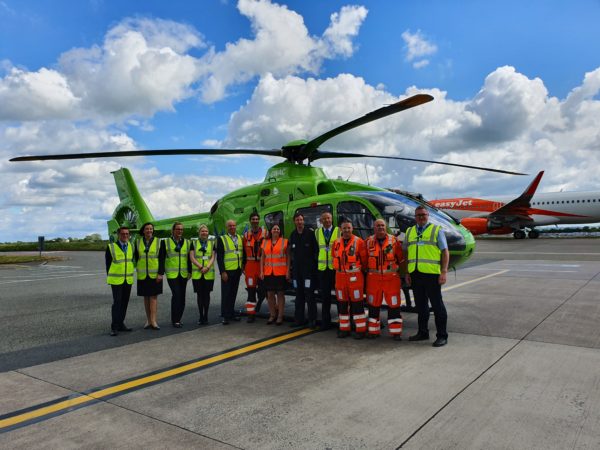 Great Western Air Ambulance Charity land partnership with Bristol Airport
May 31, 2019
Have fun, take on a walk or run and help keep your local air ambulance flying!
The popular Nailsea Charity Walks & Runs event returns on Sunday 9th June 2019 and has numerous routes to choose from, making it suitable for all abilities.
The event has become a firm favourite with hundreds of people getting together to have fun, enjoy the local countryside with friends and family whilst raising money for charity.
As well as walkers, runners can also take part: they should note that they will not be timed and will be "off road" on a cross country route, over footpaths – often grass / dirt footpaths, with gates, stiles, etc. along the way and some self-navigation.
There are three routes – all within the local area and all starting from and finishing at the Scotch Horn Leisure Centre in Nailsea where some parking is available.
FOR 2019 THERE ARE TWO NEW ROUTES FOR THE 10k AND 20k:
Nailsea 5K "The Stroll". At 5 kilometres (approx 3 miles) this may appeal to families and is intended to be a fairly easy fun walk – pushchair and wheelchair friendly.
The Nailsea 10K. At 10 kilometres (approx 6 miles) this is intended for people who would prefer a route that is longer and slightly more challenging.
The 20K Nailsea Challenge. At 20 kilometres (approx 12 miles) this is for the more experienced who are fit and who would like more of a challenge.
Nailsea and Backwell act as facilitators, organising the whole event, providing advance publicity, registration forms, maps and instructions to guide the participants, marshals (if and where deemed appropriate) and administration on the day. Everyone who completes a Walk or Run will receive a medal and a certificate of achievement.
Registration Fee of £7 per adult person For more details visit the club website where you can also register, and pay, online. Or contact Graham Hunt – 07970 771845 grahamjeanhunt@tiscali.co.uk