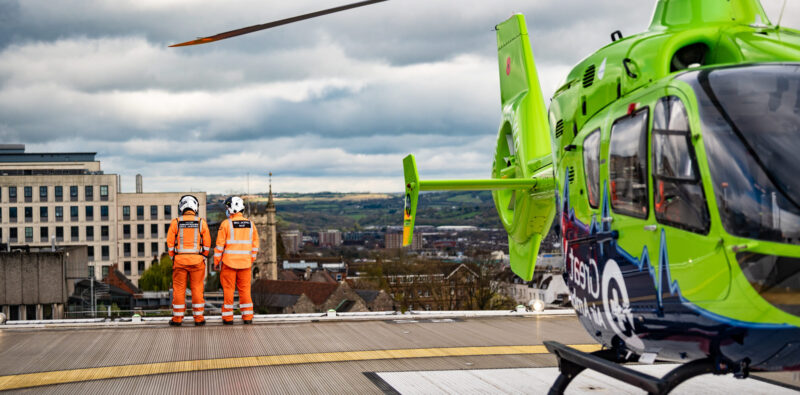 Busiest week on record for our crew
April 21, 2021
How our crew prepare for real-life situations
May 6, 2021
Introducing our newest member of the team Callum!
We are excited to introduce our new Trainee Specialist Paramedic in Critical Care, Callum.
Callum has recently moved from London to join Great Western Air Ambulance Charity's (GWAAC) Critical Care Team. Although he might be new to GWAAC and the region, his medical experience is extensive.
Read on to find out more about Callum and his prior experience before joining GWAAC.
Please explain what experience you have had previous to GWAAC?
I'm from Australia originally so did my bachelor's degree and training in Victoria before moving to London for a chance to work in a really busy service and travel after qualifying as a paramedic. I worked in Hackney and Central London before moving to the Tactical and Joint Response Unit where I worked as a solo paramedic. As well as providing the normal paramedic response to medical calls, we worked with police to provide early paramedic intervention to patients in hostile and high threat areas such as public order incidents, marauding terror attacks and firearms and stabbing scenes. I have recently finished my masters in specialist paramedic practice (critical care). I also do some lecturing and teaching at university for new paramedic students and colleagues completing professional development.
Why do you want to work for GWAAC?
I have always been interested in pre-hospital critical care as I think it is a chance to make a real difference to patients and their families and GWAAC has a reputation for being a leading critical care provider. I did an observer shift with GWAAC when I first moved to the UK and was inspired by how the team treated patients and how close knit the team were. It is a real privilege to work with the people and GWAAC and do this job and be able to help patients in the ways we can.
What are you most enjoying about the role?
The team has been great so far, GWAAC has a really supportive learning environment and everyone has been really encouraging, it has been great improving current skills and knowledge as well as learning a wide range of new things from some really well respected and experienced clinicians. I am looking forward to continuing to learn new things and putting everything into practice over the next few months.
A random fact about yourself?
I really do live for chocolate, I'm the definition of a chocoholic which the rest of the team are starting to realise already. What's not to love about chocolate right?
Callum's first mission with GWAAC pictured below.