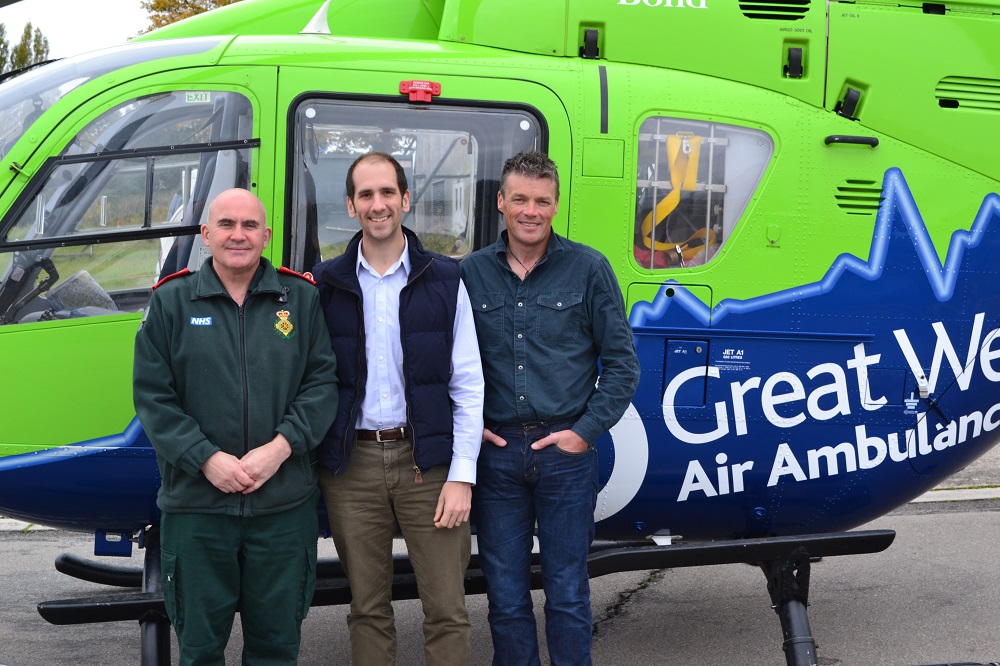 "The skill of the team is the reason I am here today"
October 27, 2015
"Elise still has the potential to lead a happy and fulfilled life, thanks to GWAAC."
February 20, 2016
Joseph Bournat was left helpless when he suffered a cardiac arrest at the wheel of his car in Coleford. However all the emergency services in the area pulled together, and his story has a happy ending.
Joseph had spent the day fishing and when it started to rain he got in his car for the short drive home. This is the last thing he remembers before waking up in hospital two days later. During the drive home he suffered a cardiac arrest at the wheel, and crashed his car into a parked vehicle. He was left trapped and not breathing, his life hanging in the balance.
In a series of lucky coincidences, off duty firefighter Andrew Pearce was passing and along with a member of the public managed to turn the car off, and pull Joseph out of the car. The accident happened just meters away from the police and ambulance stations, and Police Officer Paul Clark and PCSO Neil Evans were quickly on scene with the defibrillator. They started CPR on him before paramedic Christine Chandler arrived. Helped by off-duty paramedic Dave Lewis, she stabilised him at the scene before we arrived.
The Great Western Air Ambulance Charity helicopter landed nearby, with Critical Care Paramedics Pete Sadler and Neil Hooper on board. Joseph was airlifted to the Bristol Royal Infirmary (BRI) in 11 minutes, a journey that would have taken an hour or more by road. The BRI is a specialist heart hospital and we are able to fly patients straight on to the helipad, saving vital minutes.
Joseph spent two weeks in hospital, where he had stents fitted, before being allowed home. He said:
"The police, fire, ambulance service, air ambulance crew and NHS staff at Bristol Royal Infirmary all did an amazing job and I can't thank them enough. Their prompt action and expertise all contributed to saving my life."
Pete said:
"We often work closely with our partner agencies and in this instance, it shows that it can really help to save lives."
If you or someone you know has been helped by the Great Western Air Ambulance Charity team, we'd love to invite you to meet the crew who help you. You can get in touch using our 'Contact form.