Cyclist Jordan meets crew who saved his life
September 1, 2016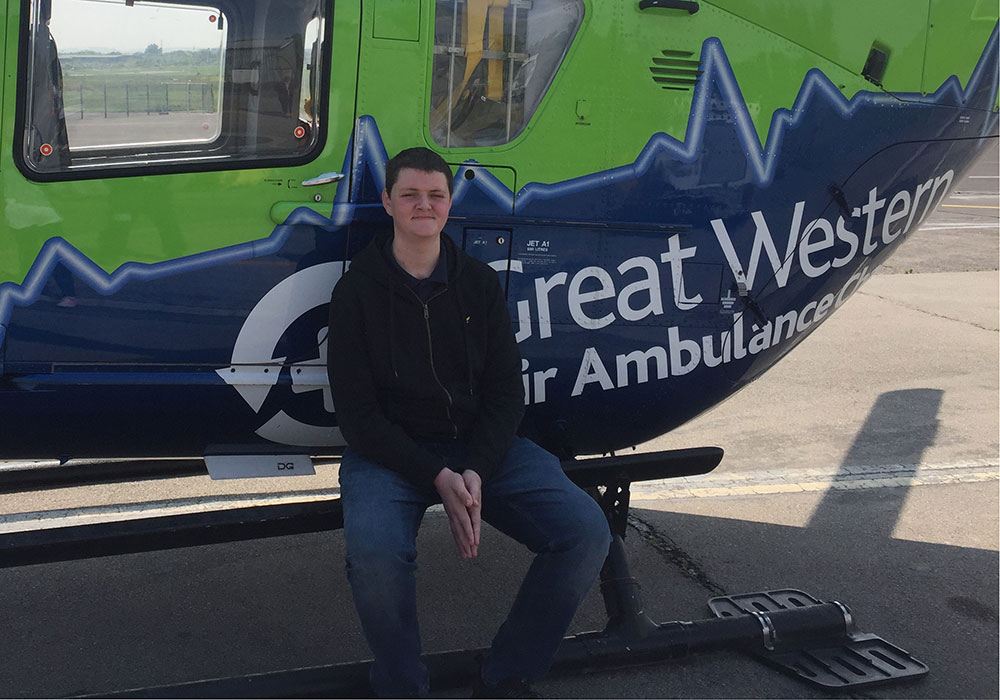 "Adam would not have survived the journey to hospital by road."
September 15, 2016
When one-year-old Harry received a significant head injury his life was left hanging in the balance. Luckily the Great Western Air Ambulance Charity Critical Care Team were soon at his side.
A family day out soon became every parents' worst nightmare when Harry, who was out with his mum and brother, was hit by an air rifle. Harry was suffering from a severe head injury, he was in a critical condition and needed help fast, so GWAAC's Critical Care Team were called.
Within just four minutes of receiving the call, Critical Care Doctors James Tooley and Matt Campbell, and Critical Care Paramedic Pete Sadler were on their way to the scene in Helimed 65. When they arrived they found Harry in a critical condition, with a serious injury to his head, he was struggling to breathe.
Dr Tooley said: "On our arrival we found that Harry had been shot in the head and was drifting in and out of consciousness. His breathing was becoming erratic leading to long pauses. We then undertook an emergency anaesthesia on scene."
The treatment Harry received on scene meant that he was in a stable condition, and his brain was protected. Once he had been treated he was taken to the Bristol Children's Hospital by land ambulance, accompanied by our team. After a long stay in hospital receiving expert treatment, Harry was able to return home and make a recovery, and came to visit GWAAC's airbase with his family to meet the crew who attended to him. Harry's dad, Ed, said:
"We thank you from the bottom of our hearts for saving our baby boy, without your fast action our son wouldn't be here today. You are fantastic at your jobs and absolute superheroes to us. Thank you so much."
If you or someone you know has been helped by the Great Western Air Ambulance Charity team, we'd love to invite you to meet the crew who help you. You can get in touch via email at pr@gwaac.com.